Nonfiction Book Reviews
Page One of Two
The Atlas of Archaeology by Mick Aston & Tim Taylor
DK Publishing, September 1998.
Hardcover, 208 pages.
ISBN: 0789431890.
Ordering information:
Amazon.com.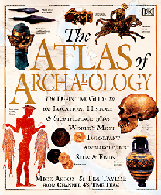 The Atlas of Archaeology
is a beautiful reference book that shows the uniqueness of the lives and geography of ancient cultures, landmarks and civilizations. The book is arranged chronologically from the Paleolithic to the Industrial Age. Each section brings into view the lives of a different culture using pictures, maps, details on archaeological digs, information on the culture and current archaeological thoughts on how these cultures lived and what they believed. Some of the cultures and landmarks explored in the book include: Neolithic communities, the Henge Monument, Teotihuacan, Ancient Egypt, Sanxingdui, Great Zimbabwe, Roman villas, Pompeii, medieval castles, and colonial America. Techniques used by archaeologists are also explained, highlighting recent technology such as carbon dating, dendrochronology, geophysics and skeletal analysis. The book also includes an extensive map-based guide which lists 1,200 archaeological sites from all over the globe.
The Atlas of Archaeology
is a fascinating resource. The stunning photographs and maps are especially well-done. A fantastic book for the reference shelf or to display on a coffee table.
---
Essential World Atlas by DK Publishing
DK Publishing, September 1998.
Trade Paperback, 249 pages.
ISBN: 0789432501.
Ordering information:
Amazon.com.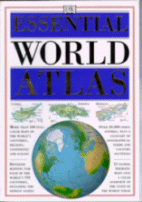 DK's
Essential World Atlas
is an excellent paperback sized atlas that contains over 100 full-color maps. The atlas contains a variety of global maps which illustrate the world's population, languages, geology, geography, timezones, climate, religion and economy. Full-color maps are also present for 192 countries containing geographical details, size, population, elevation and other specifics. A comprehensive index allows you to quickly find the appropriate map(s) for any body of water, city, continent, country or territory. The atlas also contains an index of territories and dependencies listing the location, population, size and capital for each. A handy atlas with valuable information, appealing graphics and great detail. Recommended for your reference bookshelf.
---
Click here For Nonfiction Reviews Page Two
Return to Book Reviews Index
---
More from Writers Write