Nonfiction Book Reviews
Page Two of Four
Baby Steps: Exercises for Baby's First Year of Life by Susan Fox
Berkley, October 1999.
Trade Paperback, 267 pages.
ISBN: 0425170578.
Ordering information:
Amazon.com.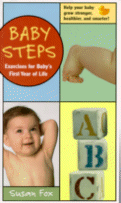 Susan Fox, a pediatric neurodevelopment therapist and director of the Pediatric Therapy Clinic in Seattle, provides insight and healthy exercises for parents to try with their babies in this practical guide. But do babies need to exercise? Susan Fox says yes they do. She explains that "Babies who practice physical skills improve their strength, balance, coordination, visual abilities, dexterity and even listening skills and memory -- and infants who master these basic skills, better coordinated, more self-confident and possibly even smarter." The book includes exercises, information, recommend books and advice for each stage of the babies development such as when they can hold their head-up, touch their toes, grasp objects, sit-up, roll over, crawl, stand up and walk.
There are lots of exercises in this book that can help babies, and are also fun to try. The author also includes reasoning as to why each particular exercise can be beneficial to the child and what parents can expect from babies during each stage of development.
Baby Steps
is a valuable book for parents of new babies who are looking for innovative, natural ways to keep their babies healthy and active.
---
Complete Guide to Prescription and Nonprescription Drugs by H. Winter Griffith, M.D.
Perigee, October 1999.
Trade Paperback, 1077 pages.
ISBN: 0399525416.
Ordering information:
Amazon.com.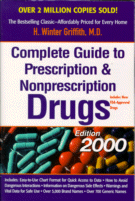 This guide provides detailed information on both prescription and non-prescription drugs. Each drug is listed in a chart format, so information can be gathered quickly. The drug listings contain basic information, uses, correct dosage information, overdose details, possible side effects, warnings and precautions and possible interaction with other drugs and substances. The drug listings also include specific information for people over 60, pregnancy, breast-feeding and infants and children. The book includes over 5,000 brand names and 700 generic names for drugs which can be quickly referenced from indexes in the book. The book also includes information about substance abuse, a checklist for safe drug use and a glossary of medical terms. The
Complete Guide to Prescription and Nonprescription Drugs
is an in-depth guide to drugs and an invaluable reference that no home should be without.
---
Nonfiction Reviews
Page One
|
Page Two
|
Page Three
|
Page Four
Return to Book Reviews Index
---
More from Writers Write