Mystery/Thriller Book Reviews
The Big Over Easy by Jasper Fforde
Viking, July, 2005
Hardcover, 383 pages
ISBN: 0670034321
Ordering information:
Amazon.com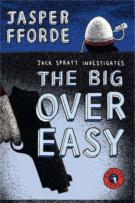 Tuesday Next, Jasper Fforde's intrepid heroine, is nowhere to be found, but there is still much to enjoy in this first of his new Nursery Crime series. Mary Mary has transferred to the Reading police department, where she assigned to work with Detective Inspector Jack Spratt to investigate the death of Humpty Stuyvesant van Dumpty who is found in many pieces near a wall in a bad part of town. Inspector Spratt, who is still furious over the jury's failure to convict the three little pigs for the vigilante killing of Mr. Wolff, nevertheless must forge ahead in this newest case. At least it's a change from investigating the latest "spinning straw into gold" scam. Spratt and Mary forge ahead, encoutering a bizarre array of clues, suspects and red herrings. Still, it might just be the kind of case that makes it into
Amazing Crime Stories
, which would be a feather in all their caps.
Jasper Fforde has clearly decided that most nursery rhymes are riddled with criminal types: the characters behind the Emperor's New Clothes scam, the murderous pigs, the (now deceased) baronet Dumpty, who made his fortune laundering money for the Porgia crime family. Still, he didn't deserve to murderered, being "a good egg, at heart" as the Jellyman noted. If you enjoy a wild alternative world, witty writing, lots of literary allusions and can accept the whimsical conceit of the novel,
The Big Over Easy
is just the ticket.
---
The Oxford Murders by Guillermo Martinez
MacAdams/Cage, October, 2005
Hardcover, 200 pages
ISBN: 1596921501
Ordering information:
Amazon.com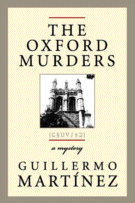 A 22 year-old Argentinian math scholar heads for Oxford, England, continues his studies. But before he even has had time to acclimate to the colder British weather, he finds his elderly landlady dead. The dead woman was a whiz at codes, who helped work on the Enigma Code during World War II. With him when he found her is his hero, the renowned logician Dr. Arthur Seldom, whose books have reached a wide popular audience. Seldom reveals that he was visiting the dead woman because of a cryptic note someone left in his mailbox which presaged the murder. The police begin to investigate, but it seems clear that a serial killer is on the loose. The killer taunts Seldom with mathematical clues, which he and his young protégé attempt to decipher. But all is not as it might seem in this enclave of academia and intrigue. Guillermo Martinez, himself a mathmetician, does a delightful job with this well-written, cerebral thriller set against the backrop of Oxford University. The structure of the mystery plot is sound and the prose is clean and crisp, making for a most entertaining read.
--Claire E. White
---
Pardonable Lies by Jacqueline Winspear
Henry Holt, August
Hardcover, 340 pages
ISBN: 0805078975
Ordering information:
Amazon.com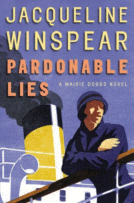 It's 1930 and the Great Depression is just getting started in London. Maisie Dobbs a psychologist and investigator is making a go of her own business in an age when single women didn't qualify for mortgages. Maisie was a nurse during World War I (or The Great War as they called it in those days) and she -- like the rest of her generation -- is deeply scarred from the war experience. Maisie takes on three cases this time: helping a 13 year-old country girl who is accused of murder; proving that Sir Cecil Lawton's only son is really dead (he was shot down in France during the war); and finding out the circumstances of the death of another soldier, this time the beloved brother of her best friend Priscilla Evernden Partridge. To look into the deaths of the soldiers requires Maisie to return to France, where she saw so much devastation. The more Maisie looks into the death of Lawton's son, the more dangerous things become for her. Someone is following her and there have been several attempts on her life. And her mentor, Maurice Blanche, is acting oddly, inviting himself to come to France with her. Maisie digs deep into the lives of the two soldiers, turning up a poignant story of spies, intrigue, love and loss.
This is Maisie Dobbs' third adventure, after
Maisie Dobbs
and
Birds of a Feather
. Maisie herself is an unusual woman: she's slightly preconitive, for one thing, although those aspects of the book aren't really advertised -- perhaps to avoid scaring off mystery readers who object to paranormal elements in mysteries. Ms. Winspear delicately disects the pretensions and prejudices of British society of the time, while providing characters with depth and dimension.
---
Return to Book Reviews Index
---
More from Writers Write
---