Mystery/Thriller Book Reviews
Page Three of Four
Shadow Image by Martin J. Smith
Jove, June 1998.
Paperback, 372 pages.
ISBN: 0515122866.
Ordering information:
Amazon.com.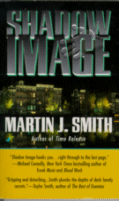 Psychologist Jim Christensen is an expert on repressed memory and his work with Alzheimer's patients is especially fascinating for its glimpses into the strange way that the human mind works. One of his most famous patients is society grande dame Floss Underhill, wife of former Senator Vincent Underhill and mother of Ford Underhill who is making his senatorial bid, following in the footsteps of his father. When Floss apparently tries to commit suicide, the family hires Jim's live-in love, attorney Brenna Kennedy, to help keep the suicide attempt under wraps. As Brenna digs more deeply into the case, it appears that the suicide attempt may actually have been a murder attempt and that Jim's painting therapy may have caused a dangerous secret in Floss' mind to resurface -- a secret that someone is willing to commit murder in order to protect.
In this second entry in the Jim Christensen series (
see, Time Release
) Martin Smith crafts a chilling, suspenseful and provocative tale which explores the themes of greed, ambition, love and the devastating effects of Alzheimer's on not only the sufferer, but on the caregivers as well. Perhaps as a product of being a Pulitzer-prize nominated journalist, Smith is especially adept at probing delicate issues, presenting all sides of a problem such as the rage of the caregiver without preaching or moralizing. He presents shocking issues with which ultimately the reader must come to terms while at the same time, providing a heart-pounding psychological suspense thriller. A gripping and thought-provoking book.
--Claire E. White
---
Panic by Echo Heron
Ivy Books, August 1998.
Paperback, 371 pages.
ISBN: 0804114587.
Ordering information:
Amazon.com.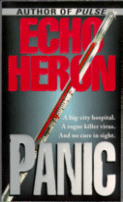 When a young teenager, Iris Hersh, the daughter of a popular politician, becomes terribly ill from an unknown virus she initially gets the city's attention and concern -- but fears escalate as the number of cases increases. Nurse Cynthia O'Neil grows attached to Iris and begins working impossible hours to keep her alive. When Cynthia becomes infected with the deadly virus, her friend, charge nurse Adele Monsarrat, begins searching for answers to save her friend's life and contain the virus before it finds more victims. Meanwhile, Iris's father Gordon Hersh, who is running for State Senator, is torn between his campaign manger's insistence that he use his daughter's illness to gain an advantage in the polls and his desire to stay out of public view to look after Iris.
Author Echo Heron imbues
Panic
with a compelling reality drawn from her years as a critical-care nurse in coronary and emergency medicine for seventeen years. Part medical thriller and part political potboiler, Panic is a fast-paced, appealing read.
---
Mystery Reviews
Page One | Page Two Page Three | Page Four


Click Here to Return to the Book Reviews Index




---
More from Writers Write
---