Mystery/Thriller Book Reviews
Page Four of Four
Sandstorm by James Rollins
William Morrow, July, 2004
Hardcover, 464 pages
ISBN: 0060580666
Ordering information:
Amazon.com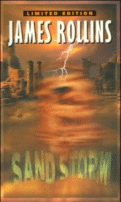 After taking readers to the depths of the South American jungles in
Amazonia
and to the frozen arctic in
Ice Hunt
, James Rollins heads for the hot, windy Arabian deserts in his best novel yet. When a mysterious explosion destroys most of the Kensington Gallery of the British Museum, covert governement agencies as well as other interested parties converge on the scene to investigate. One of the artifacts brought to the museum from Oman appears to harbor a stable form of antimatter, which if de-stabilized, will cause a catastrophic explosion. Immediately connecting the explosion with her father's mysterious death in the deserts of Oman years ago, Lady Kara Kensington organizes an expedition to find the legendary lost city of Ubar, which may hold the key to the world's energy needs and a cataclysmic weapon. The expedition group is a mixed one which includes Kara's childhood friend, museum curator Safia al-Maaz, Safia's graudate student, Safia's former fiance, explorer Omaha Dunn, and undercover DARPA agents Painter Crowe and his partner Coral are also along for the ride. Kara's expedition is not the only group determined to discover the secrets of Ubar for themselves; there are two other shadowy groups who are trailing the expedition's every move.
Reading one of James Rollins' novels is like being seated on a runaway horse: you just hang on for the ride and enjoy the scenery as it goes whizzing by. He shows particular skill at taking meticulously researched science and then extrapolating and stretching the facts to create a fantastic backdrop against which his characters have incredible adventures.
Sanstorm
has some of Rollins' most interesting and layered characters, and he writes interesting and believable women characters particularly well. If there is one author whose name you must remember when you're about to get stuck on a long plane flight, it's James Rollins.
--Claire E. White
---
Something Rotten by Jasper Fforde
Viking, August, 2004
Hardcover, 383 pages
ISBN: 0670033596
Ordering information:
Amazon.com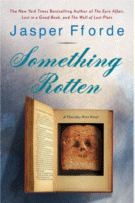 After surviving her last set of adventures (
Lost in a Good Book
), Detective Thursday Next is growing tired of being the head of Jurisfiction, chasing after escaped Minotaurs, filling in for Joan of Arc (harmful to one's hairdo), and lecturing Emperor Zark about his inappropriate and overly dramatic entrances. So she packs up her son Friday and heads back to the real world and Swindon determined to find her husband (who has been eliminated through time travel trickery by the evil Goliath Corporation who has now transformed into a multinational, oppressive religion.) But life in Swindon is not much easier than life in the fictional world. For one thing, the Danish prince Hamlet is a houseguest and his waffling is extremely annoying. But most annoying to the busy woman is the lack of competent childcare. Will Tuesday find Landon? Will a fictional character end up running England? And will Tuesday ever find a reliable babysitter?
One would think that Jasper Fforde would certainly have run out of ideas by now, but Fforde seems as likely to have writer's block as Tuesday's world is to end its love affair with the works of Shakespeare. Each book seems to further spur the author's imagination to new heights of cleverness and absurdity, with marvelously entertaining results for the reader. Fforde provides a veritable smorgasboard of action, thrills and intellectual stimulation in his latest novel, and he shows no signs of slowing down. So, sit back and enjoy the ride.
--Claire E. White
---
Mystery/Thriller Book Reviews
Page One
|
Page Two
|
Page Three
|
Page Four
---
Click Here to Return to the Book Reviews Index