Mystery/Thriller Book Reviews
Page Two of Four
Meg: Primal Waters by Steve Alten
Forge, July, 2004
Hardcover, 361 pages
ISBN: 0765308908
Ordering information:
Amazon.com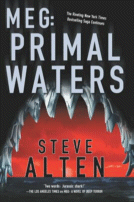 It has been eighteen years since the events chronicled in the bestselling
Meg
. The gargantuan prehistoric shark,
Carcharadon Megalodon
, left behind a baby meg named Angel who has escaped from her tank at a SeaWorld-like exhibit. Jonas Taylor, the adventurer who captured her is now older -- he's 63. Jonas is exhausted from raising his kids and his financial situation is bordering on the desperate when a slimy reality tv producer offers him a lot of cash to go along as a consultant on his hit show, called
Daredevils
. The new season of
Daredevils
will put contestants into dangerous situations while they live on a restored sailing ship (think
Fear Factor
with giant, man-eating sharks). What Jonas doesn't know is that an old enemy has managed to find a way to lure a megalodon to follow the ship -- and that Jonas is scheduled to be the shark's main appetizer. Jonas' wife, who was horribly traumatized by the couple's prior run-in with the meg is opposed to the project, but insists that Jonas take his teenaged daughter along on the journey. Meanwhile, Angel -- now a full-grown shark -- heads back to the West Coast, having fond memories of feeding time at the aquarium.
Meg: Primal Waters
is not your run of the mill adventure novel. Steve Alten creates his best novel yet with his middle-aged protagonist, who really isn't sure that he has what it takes to battle a giant preshistoric shark one more time. But battling his teenaged daughter is even more terrifying than taking on the shark. Alten does a great job of creating fully-realized and interesting characters who are put into horrifying situations. But for those that love a good shark attack scene, never fear. There is enough action and shark attacks for three books here; the pace is absolutely relentless. Alten taps right into the primal terror that anyone with a grain of sense feels when a shark the size of a house is heading your way. Neatly woven into the plot are also commentary on everything from baseball, family dynamics and ocean ecology. And if you read this one at the beach, you'll never set even one toe into the water.
--Claire E. White
---
Murder is Academic by Christine Poulson
Thomas Dunne Books, April, 2004
Hardcover, 240 pages
ISBN: 0312318073
Ordering information:
Amazon.com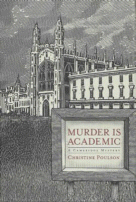 St. Ethelreda's College, Cambridge, may look like a beautiful bastion of intellectual and scholarly pursuits on the outside, but inside those ancient stone walls, the most virulent and vicious of battles are being fought daily in the halls of academia. Professor Cassandra James gets the shock of her life when she visits the home of the head of the English Department, Margaret Joplin. She finds Margaret's dead body in her backyard swimming pool, with the students' exams floating in the water nearby. Cassandra is asked to replace Margaret as Head of the Department, which is in danger of being disbanded altogether if the professors don't get their work published. "Publish or perish" is a very real concept at St. Ethelreda's. When a student is found dead and Margaret's papers reveal that she was having an affair, Cassandra begins to believe that Margaret's death was no accident.
Christine Poulson has the gift of creating an atmosphere which is utterly entrancing. She uses Cambridge and the colleges as a backdrop which frames the characters and lends a mysterious mood to the proceedings. Cassandra has a certain, almost detached quality to her narrative, which fits especially well with the mood evoked. One is always sure that there is more going on than is apparent on the surface. She also has a wry sense of humor that, combined with crisp prose, makes for a very enjoyable read. For Anglophiles and those that love a good academic mystery, look no further.
---
Mystery/Thriller Book Reviews
Page One
|
Page Two
|
Page Three
|
Page Four
---
Click Here to Return to the Book Reviews Index