Mystery/Thriller Book Reviews
Page One of Four
The Feng Shui Detective by Nury Vittachi
Thomas Dunne Books, January, 2004
Hardcover, 279 pages
ISBN: 0312320590
Ordering information:
Amazon.com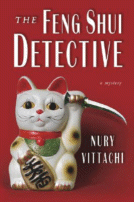 Singapore resident C.F. Wong is a feng shui master who is greatly respeted within his field. But the order and neatness which calms his soul is in short supply at his office, which is constantly disrupted by his harridan of an office manager and his new, Australian teenaged intern, Joyce Mquinnie. While inspecting the apartment of Dr. and Mrs. Tsai-Leibler, a fire breaks out which nearly kills Mr. Wong and clients. To make things worse, a ghost is haunting Dr. Leibler's dental offices. The ghost's antics are quite disturbing to his patients and his business partner. Then Wong is called in by his two psychic friends to consult on the case of a missing girl (his friends have been hired by a Malaysian witch doctor). Now Fong's hunt for the missing girl will take him from the hip nightclub scene to the shores of Australia -- with the irrepressible and loud Joyce right by his side.
American readers are in for a welcome case of culture shock with
The Feng Shui Detective
. The worldview of the characters (with the exception of Joyce) is so different from the American one that reading the story really is like taking a trip across the globe. Wong, who would love to spend his time quietly writing his opus
Some Gleanings of Oriental Wisdom
, is constantly dragged out into the real, noisy world by his bubbly intern, Joyce -- with hilarious results. Joyce, a typical Western teen, is appalled by Wong's culinary habits. He finds her Starbucks lattes to be equally foul. Along the way, readers will learn many helpful feng shui tips -- the explanation of why one should clean up one's office is especially enlightening. This is a wonderful, wise and very funny mystery which will appeal to a broad range of readers. C.F. Wong is a hit.
--Claire E. White
---
The Haunted Abbot by Peter Tremayne
St. Martin's Minotaur, May, 2004
Hardcover, 298 pages
ISBN: 0312287690
Ordering information:
Amazon.com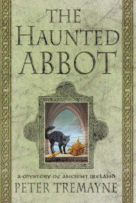 Sister Fidelma of Cashel and her husband of one year, Brother Eadolf, are on their way home from Britain when they decide to stop to see Eadulf's childhood friend, Brother Botulf. Brother Botulf lives at Aldred's Abbey and wrote Eadulf a cryptic letter begging him to visit. When the arrive, they find that the Abbey's evil reputation is well-deserved. Abbot Cild won't allow women on the premises of the Abbey and is fanatical about women knowing their place and about keeping the rules of Rome. When the pair discover that Brother Botulf was murdered just that morning and then the Abbot sees the ghost of his dead wife, he accuses Fidelma of being a witch and imprisons her to await trial for witchcraft. The penalty for a witchcraft conviction is death. Fidelma has come down with a respiratory infection and is quite ill, so Eadulf is on his own for much of the investigation to find Botulf's murderer and save Fidelma. Politics intervenes as well, giving new urgency to the investigation as civil war is about to break out.
Seventh century Britain is not an easy place to be a woman. Fidelma, as a
brehon
or magistrate, is used to having authority over legal proceedings in Ireland and having her opinions taken seriously. To be stuck in the seventh century with a group of men who look upon women as chattel is intolerable. (One wonders what effect this will have on her marriage.) Peter Tremayne continues to delight readers with his mastery of historical detail, intricate plotting and vivid characterizations.
--Claire E. White