Mystery/Thriller Book Reviews
Page Three of Three
The Floating Girl by Sujata Massey
HarperCollins, April 2000.
Hardcover, 320 pages.
ISBN: 0060192291.
Ordering information:
Amazon.com.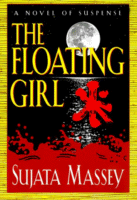 Japanese-American antiques dealer Rei Shimura sometimes supplements her income by writing antiques articles for the
Gaijin Times
, an English language newspaper aimed at Americans and English living in Japan. When new management takes over the paper, Rei is assigned a piece on the growing cult of manga in Japan: specifically on the written form of anime -- the vividly illustrated comic books which are a national obsession. Rei attempts to find a brilliant young manga artist to interview him for her magazine article, but he is singularly elusive. When one of the young artists she interviews ends up dead, Rei realizes that something very odd is going on in the manga world. Determined to find out what is happening and to make good on her assignment, Rei is drawn further into the world of comics. Soon she's meeting rabid fans who walk the city streets dressed as their favorite characters, the owner of a popular ladies' club and even a powerful yakuza (think Japanese Mafia) who seems to be keeping a watchful eye on Rei's activities.
From the hilarious opening scene to the exciting denouement,
The Floating Girl
hums along with energy and crisp, crackling prose. Sujata Massey's books have taken us into the Japanese worlds of antique dealing (
Zen Attitude
), Flower Arranging (
The Flower Master
) and now into the world of comic books. Rei Shimura is never totally at home, either in San Francisco or in Japan, and her outlook on the Japanese culture is a unique and fascinating one. The prejudices against gaijin (foreigners) are illustrated with insight and gentle humor; Rei is determined to fit into her adoptive home, whether the locals want her to or not. This is a sexy, intriguing and immensely entertaining novel in a series that seems to get better with each new entry. Highly recommended.
--Claire E. White
---
Worst Fears Realized by Stuart Woods
HarperCollins, April 2000.
Paperback, 406 pages.
ISBN: 0061013420.
Ordering information:
Amazon.com.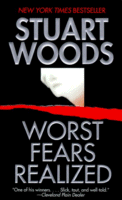 In his former career as a cop, lawyer Stone Barrington made lots of enemies. Now it appears that someone that he and ex-partner, Dino Bacchetti (now head of detectives in the 19th precinct) sent to jail for murder is systematically killing off Stone's and Dino's closest friends and family members. While trying to track down the killer, Stone's love life is heating up as well. Painter Sarah Buckminster makes such an impression on Barrington that he starts having domestic thoughts, and even buys a house in upstate New York. But Stone's former love, Arrington, now Mrs. Vance Calder, is never far away, nor is a beautiful Mafia princess who seems intent on bagging Stone as one of her legendary trophies.
A new Stone Barrington novel is always cause for rejoicing. Sort of a cross between James Bond and The Equalizer, with a touch of The Saint thrown in, Stone Barrington is one of the most entertaining series characters in print today. The books are written in a wry, tongue-in-cheek style with lots of heart pounding action and panache. A new contract with Putnam has Woods committed to two more Stone Barrington novels in the next 12 months -- and that's nothing but good news for his fans.
--Claire E. White
---
Mystery Reviews
Page One
|
Page Two
|
Page Three
Click Here to Return to the Book Reviews Index
---
More from Writers Write
---