Mystery/Thriller Book Reviews
Page Two of Three
Dying Well by Joyce Christmas
Fawcett, June 2000.
Paperback, 216 pages.
ISBN: 0449150119.
Ordering information:
Amazon.com.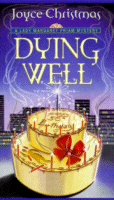 Lady Margaret Priam, the daughter of the late Earl and Countess of Brayfield, is quite fond of her flashy Texas multi-millionaire friend, Sue Anne Hoopes. But when Sue Anne asks Margaret to find a job in New York City for a young Texas socialite, Margaret has misgivings -- especially when Sue Anne's son, Prince Paul Castrocani will only say that Lucia Rose has a reputation for causing trouble wherever she goes. Nevertheless, Margaret arranges for the stunning Lucia to work as a social secretary for social maven Roberta Reeves. But Paul was right about little Lucia Rose, and soon her escapades with the lives of the Reeves family put Eve Harrington to shame. Lucia becomes so entrenched in the family's business, that she ends up orchestrating a surprise 50th birthday party for Roberta's husband, Dale. In the midst of the fabulous Texas-themed party on the terrace of the Reeves apartment, someone dies. Lady Margaret doesn't have much time to unravel the trail of deception, lies and passion which surround the Reeves family, and to find a killer.
Dying Well
is a uniquely crafted story, which takes an interesting departure from the usual pattern of the popular Lady Margaret Priam mysteries. After a shocking opening scene set at the birthday party, the story then switches to tell the events leading up to the murder. The victim is not revealed until very close to the end of the book, a device which infuses the story with a great deal of suspense. Who is the victim of Lucia Rose's machinations? And who is the killer? These questions will hover in the back of your mind as you read the events that led up to the outrageous party, or as one society matron put it: "Roberta's parties are always disasters, but this is too much." Joyce Christmas is a master of quick, clever dialogue, and her character-driven mysteries are full of intellect, charm and wit. Highly Recommended.
--Claire E. White
---
Charlie's Web by L.L. Thrasher
Write Way, August 2000.
Hardcover, 223 pages.
ISBN: 1885173660.
Ordering information:
Amazon.com.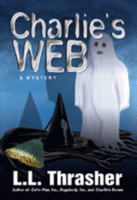 Lizbet Lange, a youthful widow is still trying to get used to her new, wealthy way of life, which includes a hot romance with attractive cop, Jonathan Bilbo. She could deal with the money and the new boyfriend much better, if only she didn't have a ghost which urges her to solve crimes where some great wrong needs to be set right. The ghost just happens to be her boyfriend's dad, Charlie. Charlie appears at an incredibly awkward moment and announces that it is up to Lizbet to solve a 25 year old murder of Rachel Wright, a little girl who vanished while trick or treating on Halloween night accompanied by her mother and various friends. Rachel's body was found a couple of days later, but the killer was never found. The local cops wish Lizbet would keep her nose out of the newly-reopened case, but seem resigned to her snooping around. When someone connected with the original crime is found murdered, it begins to look like the killer is still around -- and Lizbet could be the next victim, if she's not careful.
Readers first met the irrepressible Lizbet in
Charlie's Bones
. Now she and her resident ghost are back in this second entry in this series which combines mystery, the supernatural and romance to good effect. L.L. Thrasher has a knack for taking a supernatural element (the ghost) and integrating it into the storyline in such a way that it seems perfectly natural. The pacing is fast and the dialogue is quite funny. If you enjoy mysteries with a touch of the supernatural, this series is a must-read.
---
Mystery Reviews
Page One
|
Page Two
|
Page Three
Click Here to Return to the Book Reviews Index
---
More from Writers Write
---