Mystery/Thriller Book Reviews
Page Five of Six
The Silent Cradle by Margaret Cuthbert
Pocket Books, April 1998.
Hardcover, 348 pages.
ISBN: 0671015133.
Ordering information:
Amazon.com.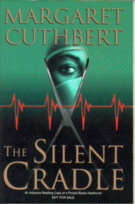 Dr. Rae Duprey, the best baby doctor at Berkeley Hills Hospital, grows deeply concerned when some pregant mothers, whose deliveries should be routine, start to require emergency operations upon arrival to her hospital. The Baby Center, a nearby facility, routinely delivers mothers that will need C-sections or non-routine deliveries to Berkley because it does not have surgery capabilities. Berkeley has been losing clients to the Baby Center, a birth center with a modern-day, comfortable appeal. Rae learns that the hospital wants to remove her department due to financial considerations. She manages to get a two week delay from the hospital administrators and is given a chance to prove that Berkeley is essential for the babies, but the situation worsens when her ex-love Bo Michaels, who also runs the Baby Center, starts blaming her for the incidents. Determined to prevent any more unexpected emergencies, Rae starts investigating. She begins to suspect something is happening to the babies enroute to Berkeley and starts questioning the ambulance drivers whose behaviour is suspicious at best. When her best friend and co-worker Bernie is murdered late one night while looking over some files for her in the library, the situation begins to escalate out of control. Rae must battle doubt from the police, continue to perform emergency operations on mothers whose deliveries should have been routine and risk her own life as she struggles to save the hospital and discover who the baby-killer is.
Be sure to read
The Silent Cradle
, a great debut from Margaret Cuthbert, a former obstetrician. The fast-paced plot, thrilling medical emergencies, elements of suspense and excellent characters make this novel a first class thriller.
---
Trouble in the Town Hall by Jeanne M. Dams
HarperCollins, Feb., 1998.
Paperback, 246 pages.
ISBN: 0061011320.
Ordering information:
Amazon.com.
American Dorothy Martin has now lived in her new home in Sherebury, England, a charming cathedral town, for just over a year. While on her way to a lunch date with the charming local Chief Constable, Dorothy stops by the now deserted Town Hall -- which has become the subject of a bitter debate between the historical society and those who want to use the lovely old building as the site of a new shopping mall -- and stumbles over a dead body. Although warned by Chief Constable Nesbitt not to investigate on her own, Dorothy nevertheless feels compelled to see what she can dig up about the mysterious young man who was found murdered. What she finds are some long-buried local scandals which could lead to more violence unless Dorothy finds out the truth.
Trouble in the Town Hall
is a charming cozy in the tradition of the English murder mystery, updated for the 90s. The characterizations are fresh and funny. Fans of Agatha Christie will love watching Dorothy -- who never sets foot outside without one of her many hats -- pursue the truth in her own inimitable way. The description of life in the lovely, fictional town of Sherebury will charm readers. Anglophiles and Golden Age mystery lovers should pour themselves a glass of sherry and settle down for a delightful read.
---
Mystery Reviews
Page One | Page Two | Page Three | Page Four
Page Five | Page Six

Click Here to Return to the Book Reviews Index




---
More from Writers Write
---