Mystery/Thriller Book Reviews
Page Two of Six
Going Out in Style by Joyce Christmas
Fawcett Gold Medal, June 1998.
Paperback, 181 pages.
ISBN: 0449150100.
Ordering information:
Amazon.com.
The elegant and charming Lady Margaret Priam has made a home for herself in Manhattan with a busy social calendar, good friends and an up and down relationship with New York homicide detective Sam de Vere. But lately Margaret has been feeling like her life is missing something -- something she isn't finding in the society whirl of New York. Although she has scores of social acquaintances, one of her only truly close friends is Dianne Stark, a former airline stewardess whose marriage to real estate tycoon Charlie Stark catapulted her to the top of the New York social scene. Margaret is concerned when her friend starts receiving threatening letters but can't get her friend to talk. But when Dianne's look-alike sister is shot in front of Dianne's home and Dianne disappears, Lady Margaret decides to investigate. What she finds is a tangled knot of relationships which could lead to another murder: that of Lady Margaret herself. She also discovers some revealing truths about herself which could have profound effects on her life.
Going Out in Style
is an excellent addition to this wonderful series starring British expatriate Lady Margaret Priam. The upper strata of New York society in which Lady Margaret moves provides a fascinating backdrop for the mystery and for Lady Margaret's witty and wry observations of the sometimes shallow (but glamorous!) world in which she lives. Christmas is at her best when she's skewering the pretensions of the glitterati and her hilarious observations of the foibles of the party set are dead on. Fans of the series will be entranced by some of the revelations about Margaret's own past and new readers will be captivated by the wonderful characters and entertaining commentary. With the finely drawn characterizations and sparkling dialogue that are Christmas' trademarks
Going Out in Style
is a wonderful escape from the everyday world.
--Claire E. White
---
Death, Lies and Apple Pies by Valerie S. Malmont
Simon and Schuster, Aug., 1997.
Hardcover, 220 pages.
ISBN: 0684801892.
Ordering information:
Amazon.com.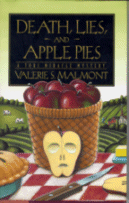 New York City horror novelist and amateur sleuth Tori Miracle is back in her second adventure, after solving the murder of her best friend's husband in the tiny town of Lickin Creek. When Tori decides to return to Lickin Creek to visit her new flame, Sherrif Garnet Gachenauser, the last thing she expects is for a man to die in her arms after telling her he was poisoned. Now Tori is plunged once more into small town politics as the town debates the new nuclear waste disposal project planned for the town and into danger as she seeks a murderer in the seemingly friendly town which hides a multitude of secrets.
Death, Lies and Apple Pies
is a satisfying second outing in the series. The theme of a small town which has a friendly face and hidden secrets makes for a fast, interesting storyline and readers will be guessing "who done it" until the very end of the tale.
---
Mystery Reviews
Page One | Page Two | Page Three | Page Four
Page Five | Page Six

Click Here to Return to the Book Reviews Index




---
More from Writers Write
---