Mystery/Thriller Book Reviews
Page One of Six
The Butter Did It by Phyllis Richman
HarperCollins, June 1998.
Paperback, 373 pages.
ISBN: 031218087X.
Ordering information:
Amazon.com.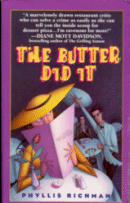 On the eve of Washington D.C.'s most-anticipated gourmet gala, City Tastes, most chefs are slaving away in their kitchens preparing for the event which stipulates that each chef must prepare his or her own dishes without help. Renowned French chef Lawrence Lavain finishes preparing his famous salmon-stuffed raviolis but never gets the chance to serve them. Before the event he is found dead on his living room floor, apparently of a heart attack. While most of his colleagues attribute Lavain's death to his soaring cholesterol levels his ex-love and current restaurant critic for the
Washington Examiner
, Chas Wheatly, thinks otherwise. With the help of Homer Jones, the homicide detective on the case who adores fine food, and Chas' investigative reporter boyfriend, Chas sets out to trap a killer. Along the way she samples the best food that Washington, D.C. has to offer and comes to a surprising conclusion about the role that love can play in her life.
Noted restaurant critic Phyllis Richman has penned a winner with her first foray into mystery writing. Filled with scrumptious descriptions of gourmet delights and an intriguing look into the life of a famous restaurant critic,
The Butter Did It
succeeds on several levels. The mystery is clever and the characters are vivid and entertaining. A masterful foray into the culinary mystery subgenre,
The Butter Did It
is a delicious indulgence.
--Claire E. White
---
Cook's Night Out by Joanne Pence
HarperCollins, Jan., 1998.
Paperback, 286 pages.
ISBN: 0061043966.
Ordering information:
Amazon.com.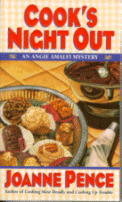 Chef Angie Amalfi dreams of creating a confection which will revolutionize the dessert world: the angelina. Unfortunately, she has no idea whatsoever as to what form the delicious angelinas will take, so she invests in a number of specialized kitchen appliances and a ton of chocolate and sets to work. Batch after batch of rich chocolates of every size and description are deemed unworthy by Angie and are donated to the Random Acts of Kindness Mission in San Francisco. After meeting the charismatic founder of the Mission, Angie decides to volunteer at the Mission and eventually gets talked into organizing a huge charity ball. The more time she spends at the mission, the odder things seem there. What's worse is her current love, San Francisco police officer Paavo Smith, is in danger of losing his job when numbers runners all over the city start turning up dead -- with Paavo's phone number in their pockets. Although warned away from the Mission by Paavo because of the shady reputation of the Mission's biggest supporter, Angie thinks the Mission might be connected to Paavo's problems and decides to investigate. Along the way, Angie will whip up a staggering amount of unusual confections, go undercover as a bag woman and put herself in danger from a dastardly criminal.
This is the 5th book in the series starring chef and sometime amateur sleuth Angie Amalfi. San Francisco provides an interesting backdrop for the madcap and entertaining adventures of Angie and her longtime love, Paavo. With its lighthearted tone and lovable protagonist,
Cook's Night Out
is a charming addition to this popular series.
---
Mystery Reviews
Page One | Page Two | Page Three | Page Four
Page Five | Page Six

Click Here to Return to the Book Reviews Index




---
More from Writers Write