Mystery/Thriller Book Reviews
Map of Bones by James Rollins
William Morrow, May, 2005
Hardcover, 433 pages
ISBN: 0060763876
Ordering information:
Amazon.com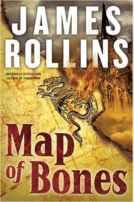 Always alert for the threat of another terrorist attack, even the hard-nosed operatives at the covert Department of Defense SIGMA Force are surprised at the horrific attack at a cathedral in Cologne, Germany, in which an entire congregation is mysteriously burned alive in a matter of minutes, yet the building remains intact. The sole survivor of the catastrophe describes armed monks who activated a strange device, then stole the cathedral's most famous relic: the perfectly preserved bones of the Three Magi who brought gifts to the Christ child over 2,000 years ago. The Vatican assigns Lieutenant Rachel Verona of Rome's carabinieri to work with an elite SIGMA Force team. The unit, led by Grayson Pierce, is ordered to determine what in the bones could cause such a cataclysm, and where the terrorists are going to strike next. Their investigation takes them on a deadly tour of the seven wonders of the ancient world, across Europe and into the mysteries of cutting edge science, as they face off against an ancient, bloodthirsty organization known as the Dragon Court.
Author James Rollins combines cutting-edge science, medieval history and non-stop action to create a top-notch thriller. Elmore Leonard once said that when he writes, he tries to leave out all the parts that people would normally skip. Rollins has that skill down pat: his historical research into the mysteries of the Vatican, the Catholic Church's reverence for relics of dead saints' bones and body parts, and the ancient secret society that still exists today is all absolutely fascinating. The science, myth and mystery are skillfully woven into a classic adventure story peopled with compelling and varied characters, both good and evil. Highly recommended.
--Claire E. White
---
Bangkok Tattoo by John Burdett
Knopf, June, 2005
Hardcover, 320 pages
ISBN: 1400040450
Ordering information:
Amazon.com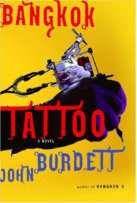 Royal Thai police detective Chai Jipleecheep is back in his second adventure after the brilliantly cynical thriller,
Bangkok 8
. When he's not suffering the rages of his corrupt boss, Colonel Vikorn, Jipleecheep has to fill as as the "papasan" and the Old Man's Club, a brothel run by his mother and Colonel Vikorn. When an American is found tortured and murdered after leaving the Old Man's Club with its star hooker, the beautiful Chanya, trouble is brewing in District 8. As is usual in these matters, Vikorn writes a statement for Chanya claiming self-defense. But when it turns out the murdered man was a CIA agent, things get considerably more complicated for Vikorn and Jiplecheep: suddenly the local Muslims, the CIA, Vikorn's old political enemy and a host of other people are have a vested interest in the murder investigation. And Vikorn's enthusiasm for blaming Al-Qaeda for the murder may just incite a civil war.
Jipleecheep's investigation into the truth takes him deeper and deeper into the seedier side of Thailand, and he struggles to reconcile his Buddist beliefs with the mercenary machinations of Vikorn and his infatuation with Chanya, who has quite a few secrets of her own. Crisp dialogue and clever plot twists keep the story interesting and fresh. John Burdett knows Thailand, and his unflinching look at a culture that is so alien in its attitudes, beliefs and mores to most Americans is absolutely riveting.
---
Return to Book Reviews Index
---
More from Writers Write