Mystery/Thriller Book Reviews
Page Three of Four
A Highland Christmas by M.C. Beaton
Mysterious Press, Nov., 1999.
Hardcover, 129 pages.
ISBN: 0892966998.
Ordering information:
Amazon.com.
It's Christmastime in the Scottish Highlands, but you'd never know it. The Calvinist element doesn't hold with all those pagan trappings, such as lights, Christmas trees and the like. For Police Constable Hamish Macbeth, things are especially depressing: his family has won a trip to Florida for the holidays, but he's stuck at home covering for a sick colleague. There are plenty of things that require a policeman's attention: crabby old Mrs. Gallagher has lost her cat and seems unnaturally afraid of something, and the Christmas tree and lights for the town of Cnothan have been stolen. The old folks at the nursing home could use some Christmas cheer, as could a local schoolgirl whose parents refuse to celebrate Christmas. Hamish is well up to the task -- and even finds a bit of romance with the local schoolteacher.
A Highland Christmas
is really a novella; it's only 129 pages long. But it's the perfect length for a quick afternoon read if you're looking for a heartwarming pick me up. All the familiar village characters are here, and a few new ones, as well. Charmingly illustrated, this Christmas tale is a lovely gift from the talented M. C. Beaton.
---
Hunter's Moon by Dana Stabenow
Berkley, Dec., 1999.
Paperback, 239 pages.
ISBN: 0425172597.
Ordering information:
Amazon.com.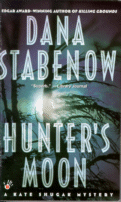 Kate Shugak and Jack Morgan have been hired by their friend George Perry to serve as guides on a hunting expedition booked by some German computer executives. George Perry runs the expeditions from his hunting lodge 125 miles northeast of Anchorage, Alaska, ten miles south of the Denali National Preserve. When Kate and Jack meet the members of the group, they are somewhat surprised. They are an obnoxious group, totally unprepared for a trek in the wilderness and seemingly totally ignorant of guns or hunting procedures. With grave misgivings, they agree to stay and guide the group. When one of the group is found dead, shot, Kate is sure there is more going on in this expedition than a simple moose hunt. There is more going on, and unfortunately Kate is soon in the midst of corporate intrigue and a killing spree. She will need all of her wilderness training and courage to escape this expedition alive.
The latest entry in the Kate Shugak series is filled with heart-pounding excitement, adventure and vivid emotion. In fact, you may be totally exhausted after you put the book down. Kate, an Aleut who has been somewhat estranged from her native heritage, is a woman of many talents -- she can hunt, climb, shoot, make jam, and is a crack criminal investigator -- and she utilizes most of them in this, her most daring adventure to date. The Alaskan scenery is breathtaking, the characters are well-drawn and the action never lets up. This is one series that gets better and better. Highly recommended.
---
Mystery Reviews
Page One | Page Two | Page Three | Page Four

Click Here to Return to the Book Reviews Index




---
More from Writers Write
---