Mystery/Thriller Book Reviews
Page Four of Four
Shakespeare's Christmas by Charlaine Harris
St. Martin's Press, 1998.
Hardcover, 214 pages.
ISBN: 0312193300.
Ordering information:
Amazon.com.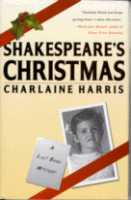 Lily Bard, of Shakespeare, Arkansas, cleans houses for a living while trying to forget a terrible incident in her past when she was raped and mutilated, then made to be the center of a media frenzy. Now Lily's sister is getting married and Lily must go home to Bartley, Tennessee for the wedding, and to face family and friends whom she hasn't seen since she moved to Shakespeare to avoid the horror of the past. In addition to the pre-wedding festivities, Lily must also contend with the fact that her boyfriend, p.i. Jake Leeds, is also in town to find a missing girl who disappeared eight years ago. There are three girls in town who fit the description of the missing child -- and Lily's sister is about to become the stepmother to one of them. Lily will have to overcome her own personal demons and find the missing child, before her sister makes a possibly fatal mistake.
Shakespeare's Christmas
is the latest entry in the series starring cleaning lady and karate expert Lily Bard (
See, Shakespeare's Landlord
and
Shakespeare's Champion
). A victim of a horrifying assault and rape, Lily is a fascinating character whose struggles to come to terms with her past are delicately and expertly rendered by Charlaine Harris. The small town atmosphere and quirky characters are skillfully drawn, without resorting to clichés. The darker edge to what could have been a lighthearted cozy makes for compelling reading. Highly Recommended.
--Claire E. White
---
Vampire Bytes by Linda Grant
Ivy Books, May, 1999.
Paperback, 288 pages.
ISBN: 0684826755.
Ordering information:
Amazon.com.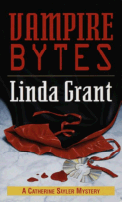 Private Investigator Catherine Saylor is investigating two cases which seem to be dovetailing. She's been hired to find Matt Demming, a computer programmer who ran off with the source code for a hot new video game called Cult of Blood. It seems that Matt was really into Live Action Role Playing ("LARP"), where teens take on roles in a fantasy game, similar to Dungeons and Dragons. Matt later shows up dead, with two puncture wounds on his neck, his body drained of blood. Catherine's other case involves locating missing teen Chloe Dorn, who disappeared the same night Matt did, also while playing the current vampire LARP. Naturally, religious extremists get involved, claiming that LARP is a cover for a bunch of Satanists, making Catherine's job much harder. But she's determined to find out what happened that night, and bring home Chloe safe and sound.
Vampire Bytes
is a fast-paced, intriguing p.i. story. The world of LARP, frequented by affluent teens in Palo Alto and the Bay Area will be a bit of an eye-opener for some parents, who may be blissfully unaware that their own teens are stalking the night decked out in full Goth regalia and pretending to be vampires. The cutthroat world of software games is vividly portrayed and makes for great background for the story. Grant has an almost journalistic style to her writing which gives the story a slightly gritty, realistic feel. Altogether, a thoroughly entertaining book by Linda Grant.
--Claire E. White
---
Mystery Reviews
Page One | Page Two | Page Three | Page Four

Click Here to Return to the Book Reviews Index




---
More from Writers Write