Mystery/Thriller Book Reviews
Page One of Four
Chile Death by Susan Wittig Albert
Berkley Prime Crime, Nov., 1998.
Hardcover, 306 pages.
ISBN: 0425165396.
Ordering information:
Amazon.com.
After the cliffhanger ending of the last book,
Love Lies Bleeding
, fans can relax. Ex-attorney and present owner of an herbal shop China Bayles and longtime love Mike McQuade are back, although McQuade is in a wheelchair after being shot in the line of duty (he's a former Texas Ranger.) Intent on helping lift McQuade's depression, China talks him into judging the local chili contest. When one of the judges dies after tasting the chili, China and McQuade dive into an investigation to find the murderer.
This is the seventh installment in this series starring China Bayles. The real mystery is how Susan Wittig Albert manages to keep the storylines and characters so fresh and appealing; one gets the feeling that this series could go on forever without getting stale, unlike some other long-running series. The history of the chili pepper and the making of a bowl of red (that's chile to the uninitiated) are featured in this South Texas tale of murder and greed in a small town. Recipes for chile and tempting bits of herbal lore are sprinkled throughout the text. The town of Pecan Springs is inhabited by delightfully quirky characters which are a joy to observe, and China is as energetic and engaging as ever. Another excellent entry from the always dependable Albert.
Claire E. White
---
Conspiracy in Death by J.D. Robb
Berkley, April 1999.
Paperback, 386 pages.
ISBN: 0425168131.
Ordering information:
Amazon.com.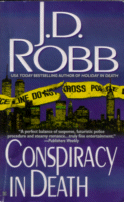 The New York City of 2059 is an eerie mix of the familiar (homeless persons sleeping in makeshift housing on the streets) and the unfamiliar (autochef, extremely advanced medical care, and some really cool futuristic gadgets). Eve Dallas fits right into this city of contrasts. She's married to one of the wealthiest men on the planet, but is also a tough homicide cop with a tragic past. A serial killer is preying on the homeless, removing organs with surgical precision. When Eve gets too close to the killer, she is framed for a murder and suspended. Passionate about her job and protecting those which society has forgotten, Eve pursues the case at the risk of her own life and her future career.
Conspiracy in Death
is the best yet of this marvelous futuristic police procedural series. We learn a bit more about Eve's past and watch her grow emotionally as a person with the help of her husband Roarke. This is one married couple with plenty of sizzle in their relationship; the love scenes are incredibly intense. The future as envisioned by Robb is believable, as are her characters. With some new cover art (a vast improvement over the old), a heart-pounding storyline and a wonderfully passionate and complex love story, this is J.D. Robb (actually, Nora Roberts) at her very best. Highly recommended for police procedural, romance and SF fans.
--Claire E. White
---
Mystery Reviews
Page One | Page Two | Page Three | Page Four

Click Here to Return to the Book Reviews Index




---
More from Writers Write
---