Mystery/Thriller Book Reviews
Page Two of Two
Fever Cell by Leonard Goldberg
Signet, August, 2003
Paperback, 367 pages
ISBN: 0451210549
Ordering information:
Amazon.com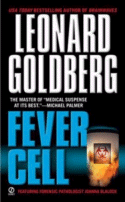 A suspected terrorist is found murdered in a restroom at LAX. Forensic pathologist Dr. Joanna Blalock performs an autopsy on the suspected terrorist; shortly afterwards Blalock is sent to a nearby hospital when an ambulance delivers a patient with smallpox symptoms. Blalock and her coworkers are forced into quarantine when they confirm it really is the deadly smallpox virus. This news sends the FBI and CDC into action, as well. As Blalock watches her co-workers perish horribly from smallpox inside the quarantine. she wonders if she herself will survive. At the same time the government needs her to figure out what the terrorists are planning do with the smallpox. Is there a connection with the autopsy patient found at LAX? Can they stop this small outbreak from spreading?
In
Fever Cell
, Leonard Goldberg provides a plausible terrorism scenario that is probably causing many sleepness nights for Homeland Defense workers. Goldberg does a superb job of explaining the medical science behind the disease; he fictionalizes smallpox's deadly potential in a similar way that Richard Preston told of its danger in the frightening nonfiction book,
The Demon in the Freezer
. Both books offer a wake-up call about the dangers of smallpox and how devestating it could be if it winds up in the hands of Islamic militants. Goldberg's characters Joanna Blalock and Lt. Jake Sinclair are sincere and believable, adding to the suspense of the novel.
Fever Cell
is a great read which will suit both medical suspense and thriller readers.
---
A Path of Shadows by Lauren Haney
Avon, October, 2003
Paperback, 302 pages
ISBN: 0060521902
Ordering information:
Amazon.com
Lieutenant Bak, head of the Medjay police, is excited about his new posting to Northern Egypt with his trusted company of men. But before he can leave for his new posting, he gets saddled with an unwanted investigation into the disappearance of a young explorer named Minnakht. Minnakht set out on a journey in the vast Egyptian desert to find his fortune. His guide returned, he did not. Now Minnakht's influential father demands an investigation. Bak, with several of his trusted policemen, heads into the desert with Minnakht's former guide, Senna. They join forces with another caravan, but murder seems to dog the expedition. Bak will have to use all his wits to solve the mystery of the missing explorer -- and make it out of the desert alive.
Ancient Egypt comes alive in this well-crafted mystery from author Laura Haney. Haney presents us with an ancient Egypt with all its imperfections: the heat of the desert, the smell in the streets and the cruelty of the life of the poor. But she also presents us with the exotic: Queen Maatkare Hatshepsut's turquoise mines and stark beauty of the moonlit desert in which assassins hide. Bak has a logical mind, and mystery lovers will enjoy his thought processes as he follows the clues to the disappearance. Tightly plotted, with believable characters and a leisurely pace,
A Path of Shadows
is a satisfying and interesting read for historical mystery fans.
---
Mystery/Thriller Reviews
Page One
|
Page Two