Mystery/Thriller Book Reviews
Page One of Two
Bangkok 8 by John Burdett
Knopf, June, 2003
Hardcover, 318 pages
ISBN: 1400040442
Ordering information:
Amazon.com
The Royal Thai Police runs on an ingrained system of rewards and payments that most Westerners would call institutionalized graft. But the honest cop hero of this amazing thriller is no Frank Serpico. Detective Sonchai Jitpleecheep is a Buddhist, the son of a Thailand courtesan and an American serviceman, who learned about the finer things in life from his mother's wealthy European clients. As penance for some very bad deeds, he has promised a spiritual leader that he will not take bribes; he is literally the only honest cop in Bangkok. His Thai partner and best friend, Pichai, as well as the rest of the force, accept this state of affairs, recognizing that Sonchai is on a higher spiritual path. When a U.S. Marine is murdered in his car in a particularly nasty way (maddened snakes are left in his car), Sonchai and Pichai are ordered to investigate. Pichai is killed when the methamphetamine-poisoned snakes attack everyone who tries to get near the car of the victim. Devastated, Sonchai vows revenge on the killer. But the investigation takes some very odd turns, indeed. And Sonchai is soon caught in the middle of a grisly murder mystery that is related to the the deadly international drug and jade trade.
First time novelist John Burdett, a British lawyer who lives in Hong Kong, presents us with a book that is part thriller and part noir crime story, with a good dose of Buddhist spiritualism and black humor thrown in for good measure. The sum of the novel's parts make for a whole which is moving, darkly funny and very suspenseful. Burdett's genius is in his characterizations: Sonchai, the conflicted but honest cop, Sonchai's mother who has her own ideas about women's lib, Warren Clark, the billionaire jade dealer with a deadly secret, and a beautiful and mysterious courtesan who has some dark secrets indeed. Sonchai is a fascinating and unique character. He is an odd mix of European sophistication, Buddhist philosophy and Thai culture. Raised without ever knowing his father, Sonchai, is a devout Buddhist, who sees people's prior incarnations when he looks at them. This unusual and entertaining thriller stands above many of 2003's entries in the genre.
--Claire E. White
---
The Big Bad Wolf by James Patterson
Little, Brown, November, 2003
Hardcover, 390 pages
ISBN: 0316602906
Ordering information:
Amazon.com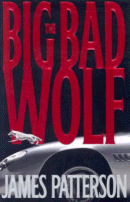 A series of kidnappings with no ransoms perplexes Alex Cross and his fellow FBI agents. Both men and women have been kidnapped in places like shopping mall parking lots and have later turned up dead. The victims were all tortured before they died. Apparently, they are being kidnapped by a Mob-type network and given to psychopaths who pay a high price to have them as slaves for their own satisfaction. The monster believed to be behind the kidnappings is a criminal mastermind known as the Wolf, who is ruthless beyond belief and has never been photographed. Alex Cross must rise above the fray of bureaucratic disputes and solve the puzzle of the Wolf before more innocents are tortured and killed.
The Big Bad Wolf
is one of James Patterson's best novels. The story tells a tale of problems occurring in today's world: the rise of the Russian mafia and the kidnapping of college and suburban men and women for the pleasure of a psychotic buyer. The Wolf, a psychotic Russian mobster, is a crude and dangerous, yet fascinating character. And Alex Cross' battles with FBI bureau heads are interesting and believable. This is an exciting thriller from beginning to end that will stick with you long after you have finished reading.
---
Mystery/Thriller Reviews
Page One |
Page Two