Mystery/Thriller Book Reviews
Page Four of Four
Malice in Miniature by Jeanne M. Dams
Walker, October 1998.
Hardcover, 228 pages.
ISBN: 0802733220.
Ordering information:
Amazon.com.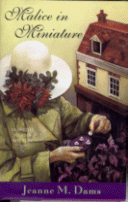 American Dorothy Martin has finally married Chief Constable Alan Nesbit and they have settled down to married life in the fictional town of Sheresbury, England. But, naturally enough, things don't remain quiet for long. Dorothy, being the inveterate snoop that she is, is bound to stumble onto a local mystery before long. This time, her gardener, Bob, has been accused of the theft of a priceless antique miniature tea set from the miniature museum where he works. While visiting the famous Brocklesby Hall which houses the museum, Dorothy meets the curious caretaker, Sir Mordred Brocklesby. Sir Mordred is obsessed with his miniature museum, and has even let the great house fall into disrepair in order to keep up the collection which houses a number of dollhouses from different time periods, all completely furnished. Dorothy manages to clear Bob of the theft, but soon another problem arises: murder. It is up to Dorothy to find a murderer and solve an intriguing puzzle which seems to center around Brocklesby Hall and its inhabitants.
Jeanne Dams has created a wonderful world with her Dorothy Martin series. Dorothy is an endearing heroine with her good hearted snooping and her dazzling collection of hats for every occasion. The characters are vivid and the fictional town of Sheresbury and its inhabitants is a charming creation. Another winner from the talented Jeanne M. Dams.
--Claire E. White
---
The Silent Cry by Anne Perry
Ivy Books, September 1998.
Paperback, 356 pages.
ISBN: 0804117934.
Ordering information:
Amazon.com.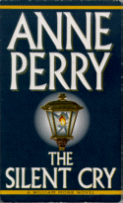 Brooding investigator William Monk and the bold, passionate Nurse Hester Latterly are back in this eighth entry in the series which uses the dark side of Victorian England with its rookeries, tenements and sweatshops as a backdrop for stories which dissect and comment on the hypocrisy and social injustice of the era. Middle aged, respectable solicitor Leighton Duff is found beaten to death in one of England's worst areas; beside him lies his son, Rhys, so terribly injured that he cannot speak. Nurse Hester is hired to nurse Rhys back to health. The police suspect Rhys of the murder of his father and Hester hires barrister Rathbone and private investigator Monk to defend him. Monk is also busy on a case trying to find a group of well-heeled gentlemen who beat and rape prostitutes in the notorious Seven Dials district of the city. The two cases become inexorably intertwined, placing Hester in the unenviable position of suspecting her own patient of murder.
The Silent Cry
is classic Perry, full of vivid, well-wrought descriptions, snappy dialogue and a true sense of brooding menace. The interaction between Hester and Monk is engaging, and the criticism of the hypocrisy of Victorian England and its mores is wrapped in a pleasing blanket of intrigue and hidden passions. Another gem from a master of the subgenre.
--Claire E. White
---
Survival of the Fittest by Jonathan Kellerman
Bantam Books, November 1998.
Paperback, 519 pages.
ISBN: 0553572326.
Ordering information:
Amazon.com.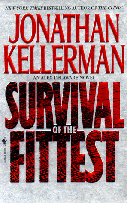 When the daughter of an Israeli diplomat is murdered and the diplomat is unwilling to allow any publicity that could help the police fish out the killer, LAPD detective Milo Sturgis turns to Alex Delaware, his psychologist friend and expert on serial killers. The girl murdered was retarded and partially deaf. There was no sexual abuse apparent and the child was murdered by "gentle strangulation." Delaware believes the killing was still sexual in nature, even though no such evidence was found. When another similar killing occurs, the pace quickens as Delaware realizes that the serial killer's murdering frequency is increasing. With the help of Daniel Sharavi, an Israeli Detective hired by the diplomat, their investigation leads to a Mensa-like organization, in which one or more of its members may be preying on the retarded because they see them as inferior. Alex continues on the dangerous path, becoming involved in an undercover operation, to try to find who committed the murders, before the body count rises again.
This is a great novel full of plot twists, crime details and frightening scenarios. Kellerman adds historical interest to the novel with facts and anecdotes about eugenicists from recent history. Another fantastic entry in the Delaware series that series fans and new readers alike will enjoy.
---
Mystery Reviews
Page One | Page Two | Page Three | Page Four

Click Here to Return to the Book Reviews Index




---
More from Writers Write
---