Mystery/Thriller Book Reviews
Page One of Four
Bait by C.J. Songer
Scribner, August 1998.
Hardcover, 319 pages.
ISBN: 0684850427.
Ordering information:
Amazon.com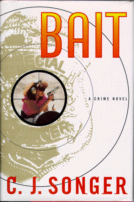 Ex-cop and widow Meg Gillis is doing her best to put her past life and the sorrows that went with it behind her. With her friend Mike Johnson, also an ex-cop, she opens a security business near Beverly Hills. Meg, a workaholic, puts up with her partner's less than stellar work habits and his habit of occasionally disappearing for the weekend. When she picks up Mike's private line she encounters a panicked client who claims a kidnapping has occurred. Driving out to the client's house, she discovers that there is not kidnapping, and what's worse, the Beverly Hills Police Department is suddenly very interested in her and in the circumstances of the bogus kidnapping call. When her car is stolen and found later with blood in it and Mike is still nowhere to be found, Meg realizes she is in very deep trouble and is the prime suspect in Mike's disappearance. When facts she uncovers lead her to the conclusion that Mike was on the trail of some dirty cops, she knows she can't trust anyone - especially the attractive Special Tactics Unit's Sargeant Joe Reilly who seems determined to stick like glue to Meg until the case is solved.
Bait
is an action-packed, energy-laden tale which doesn't let up for a minute until the exciting finish. Creating a new, tough female private eye in a somewhat crowded field is a daunting prospect for any new author. The ghost of Kinsey Milhone seems to hover over many of the less than successful attempts. But C.J. Songer is well up to the challenge. Meg Gillis is an interesting blend of vulnerability, humor, excellent investigative skills and bad-boy toughness which will have fans of the genre eagerly awaiting her next outing.
---
Blood Work by Michael Connelly
Warner Books, October 1998.
Paperback, 498 pages.
ISBN: 0446602620.
Ordering information:
Amazon.com.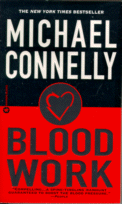 Terry McCaleb is enjoying a day on his boat, on which he also resides, when he is approached by a beautiful woman. The woman, Graciela Rivers, asks him if he will help her find out who murdered her sister Gloria. McCaleb, a retired FBI agent who resigned due to heart trouble is still healing from recent heart surgery, and is not interested in pursuing detective work. However, Graciela tells him that he should help him because it was her sister Gloria's heart that saved his life. The shocking realization that he is alive because a young woman was murdered forces him to reconsider. McCaleb learns that the woman who gave him her heart was killed in cold blood during a convenience store robbery in which the killer shot Gloria in the back of the head then shot the teller and took the money. McCaleb, who knows the way the police work and expects they will act territorially on the case, manages to convince them to ultimately let him watch the videotape of the crime. While watching the tape and seeing the cold eyes of the killer, he realizes that this killer has killed before. He then begins an investigation into the pursuit of a terrifying killer, risking danger to his own life. Meanwhile he's fast falling for Graciela, whose sister's heart is giving him a second life.
As with Connelly's other novels,
Blood Work
contains brilliantly delineated characters and spine-tingling suspense. The novel contains numerous plot twists and a demonic killer that is able to match wits with McCaleb, an intelligent and determined investigator. A superb thriller. Highly Recommended.
---
Mystery Reviews
Page One | Page Two | Page Three | Page Four

Click Here to Return to the Book Reviews Index




---
More from Writers Write
---