Mystery/Thriller Book Reviews
Page Two of Four
Canine Crimes edited by Jeffrey Marks
Ballantine Books, November 1998.
Paperback, 246 pages.
ISBN: 0345424115.
Ordering information:
Amazon.com.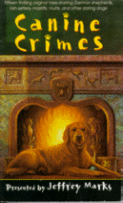 Jeffrey Marks has collected a treasure trove for mystery lovers and dog lovers alike with
Canine Crimes
. The anthology features 16 short stories each featuring the sleuthing talents of a canine. Authors include Amanda Cross, Polly Whitney, Jonnie Jacobs, Laurien Berenson, Lillian Roberts, Taylor McCafferty, Valerie Wolzien, Anne Perry, Steven Womack and many other popular mystery authors. Some of the stories are funny, some are sad, but they are all enjoyable. The stories run the gamut from Amanda Cross' tale of dogs who help solve the mystery of a missing woman, to Polly Whitney's story of the seeing eye dog who sees more than a killer might think, to to a delightful tale from Anne Perry told from the dog's point of view. A wonderful collection no dog-lover should be without.
---
Deck the Halls with Murder by Valerie Wolzien
Fawcett Books, November 1998.
Paperback, 246 pages.
ISBN: 0449150364.
Ordering information:
Amazon.com.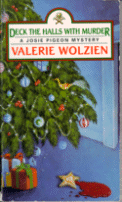 Josie Pigeon enjoys her work as a contractor and the company of her all-female construction crew, but she's a bit worried about the slow winter season, when a new contract comes in to remodel the house of the disabled owner to accommodate his wheelchair. The owner is demanding and grumpy, but the crew is hard at work to finish the project before the holidays when disaster strikes -- carpenter Caroline Albrecht is poisoned and dies. In the small town in which they live, the charming seaside resort island, suspicion is in the air instead of holiday cheer, and it's up to Josie to find the murderer. There are plenty of suspects among her construction crew, and Josie must face the fact that one of her own employees may be a killer.
Valerie Wolzien, who also writes the popular Susan Henshaw mytery series, has crafted an entertaining holiday cozy which is sure to please. The cast of characters is varied and lively and Josie herself is a likeable heroine who is determined to make it in the usually all-male bastion of the construction business. Another welcome entry in a delightful series.
---
Mystery Reviews
Page One | Page Two | Page Three | Page Four

Click Here to Return to the Book Reviews Index




---
More from Writers Write
---