Mystery/Thriller Book Reviews
Page Three of Three
So Sure of Death by Dana Stabenow
Dutton, Oct., 1999.
Hardcover, 275 pages.
ISBN: 0525945199.
Ordering information:
Amazon.com.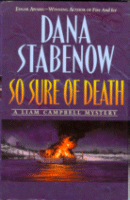 Alaska state trooper Liam Campbell is back in this sequel to the Edgar award-winning mystery novel,
Fire and Ice
. Liam has had a world of sorrow in his life so far: his wife and child were killed in a terrible accident, and he was demoted from sergeant to trooper. To top things off, he had his heart broken by the love of his life, bush pilot Wyanet Chouinard. And he really hates flying, the main form of transportation in the Alaskan bush. Campbell's day gets even worse when he is called out to investigate a grisly murder of an entire family on board a fishing boat. Forced to hire ex-love Wy to fly him to sites he must visit as part of the murder investigation, he is also disturbed by the arrival in town of his estranged father, Air Force Colonel Charles Campbell. Liam is in for the toughest case of his life, with his personal and professional lives colliding at mach speed.
Stabenow, author of the popular Kate Shugak series, (
See
,
Hunter's Moon
) has a gift for characterization: both of people and of places. The raw beauty of the Alaskan wilderness is deftly portrayed, and the emotions of the sometimes damaged people who inhabit the area are vividly conveyed. Stabenow has another winner on her hands.
--Claire E. White
---
The Master of All Desires by Judith Merkle Riley
Viking, November 1999.
Hardcover, 386 pages.
ISBN: 0670884502.
Ordering information:
Amazon.com.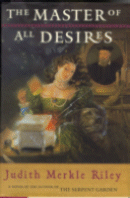 In 1556 France, Queen Catherine de Medici is furious over her husband's infatuation with his mistress, Diane de Poitiers, and will do anything to regain her husband's attentions. She sets out to obtain the Undying Head of Menander the Magus, known as the Master of All Desires. The Queen's astrologer, Nostradamus, knows that this is a bad idea: the head is totally evil and will generally destroy the person who possesses it, even though the person does receive his fondest wish. Nostradamus discovers that the Master of All Desires has fallen into the hands of Sibille Artaud de la Roque, an independent and attractive young woman with large feet and a load of common sense. Sibille is tempted mightily to wish on the Master of All Desires. Can Nostradamus stop the two women from making a fatal wish which could destroy all of France?
Judith Merkle Riley (
See
,
The Oracle Glass
and
The Serpent Garden
) delves deep into magic, lust, adventure and prophecy in her latest outing. Riley's writing is so sharp and witty that readers will be hip deep in magic and dead talking heads before they even realize that the book has taken a sharp left turn into fantasy/occult territory. Riley is at her best when writing strong female characters, and both the scheming Queen and Sibille are quite entertaining in this well-imagined historical mystery that is unique in outlook and focus, while still managing to be outrageously funny.
--Claire E. White
---
Mystery Reviews
Page One | Page Two | Page Three

Click Here to Return to the Book Reviews Index




---
More from Writers Write