Mystery/Thriller Book Reviews
Page One of Three
Big Trouble by Dave Barry
Putnam, Sept., 1999.
Hardcover, 255 pages.
ISBN: 0399145672.
Ordering information:
Amazon.com.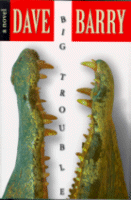 In Coconut Grove, Florida, ex-journalist and struggling adman Eliot Arnold thinks that things can hardly get worse. He is wrong. After a truly dreadful meeting with the Client From Hell, he loans his son the car so he can "kill" his classmate Jenny Herk with a Squirtmaster 9000, as part of a mock-murder game played by all the teenagers at school. Matt and his friend have the worst timing in the world. They sneak through the backyard of the Herk household, not realizing that a pair of professional hitmen are also out to kill a member of the Herk family -- with real bullets. It seems that Herk, Sr., (a real jerk) has been embezzling from the money he is supposed to be using as bribes for the construction firm he works for. It gets considerably more complicated after that, with Russian thugs, nuclear weapons, local cops, and a friendly dog all getting into the action.
Pulitzer Prize-winning humorist Dave Barry tries his hand at writing a comic mystery novel -- and succeeds admirably. Farce is extraordinarily difficult to write, but Barry pulls it off with his usual aplomb. His style of writing and humor translate very well into novel form; this one will have you laughing out loud in parts. Don't miss it, if you love a good caper. Highly recommended.
---
Black Coffee by Agatha Christie, Adapted by Charles Osborne
St. Martin's Press, Sept., 1999.
Paperback, 290 pages.
ISBN: 0312970072.
Ordering information:
Amazon.com.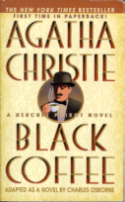 Nearly twenty-five years after her death, Agatha Christie remains one of the most popular authors the world has ever known. Charles Osborne was given permission by Dame Agatha's estate to convert a three act play written in 1930 into book form.
Black Coffee
is the result. Hercule Poirot is called to the country estate of Sir Claud Amory, a noted physicist. Sir Claud is concerned that a member of his household has plans to steal a secret formula he developed for the Ministry of Defense. But by the time Poirot gets there, Sir Claud is dead of poison. The secret formula is missing, and the country home is filled with suspects. It is up to Poirot to find the murderer, recover the formula and prevent any more deaths.
Charles Osborne made very few changes to the manuscript, other than to turn stage instructions into narrative. The result is a story which really does read like a play -- certainly it's easy to picture the characters onstage saying their lines. But gradually the atmosphere of the country home, the parade of suspects and the delightful working of Poirot's "little grey cells" take over, and you're transported into a true mystery lover's favorite place to be: the England of Agatha Christie. Kudos to Osborne for a job well-done.
---
Mystery Reviews
Page One | Page Two | Page Three

Click Here to Return to the Book Reviews Index




---
More from Writers Write