Mystery/Thriller Book Reviews
Page Two of Three
Lavender Lies by Susan Wittig Albert
Berkley, October, 1999.
Hardcover, 320 pages.
ISBN: 0425170322.
Ordering information:
Amazon.com.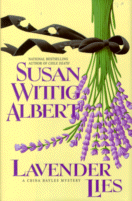 Hot shot criminal attorney turned herbalist China Bayles is making plans for her much-postponed wedding to acting police chief, Mike McQuaid. But there's a problem. When despicable real estate mogul Edgar Coleman is found murdered, McQuaid feels it is his duty to investigate thoroughly -- even if it means missing his own honeymoon. China's certainly not going to stand for that, and begins to investigate on her own. It was a wonder Edgar had time to do any business at all with his busy schedule: he seemed to spend the majority of his time blackmailing Pecan Springs' City Council members and having torrid affairs with half the women in town. Can China find a murderer, a motive and get McQuaid to the church on time?
China Bayles' 8th foray into sleuthing is a dilly -- this story is just what mystery fans need to cheer up those long, grey winter days. The quirky citizens of Pecan Springs, Texas are in rare form and China is a delight, as usual. This series shows no signs of running out of steam anytime soon -- it gets better and better with each book. Highly recommended.
---
Killing Thyme by Peter Abresch
Write Way, Sept., 1999.
Hardcover, 276 pages.
ISBN: 1885173687.
Ordering information:
Amazon.com.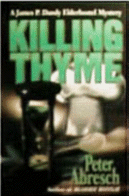 Third agers Jim Dandy and Dodee Swisher met at an Elderhostel bonsai class and ended up solving a murder. Now in a long-distance relationship, the two meet up in Baltimore for another Elderhostel group class in cooking with famous chefs. But when the chefs start dying off, and then one of the wealthy group members pops off as well, Dodee is convinced it's murder. With a reluctant Jim following her lead, Dodee is off to find the killer who's ruining everyone's fun.
Jim and Dodee are living proof that life after 50 certainly doesn't have to be dull. The Elderhostels (which are a real organization specializing in classes and tours for the over 55 crowd) are a perfect setting for this cozy and somewhat eccentric mystery which should garner a loyal following.
---
Mystery Reviews
Page One | Page Two | Page Three

Click Here to Return to the Book Reviews Index




---
More from Writers Write