Mystery/Thriller Book Reviews
Page Two of Two
Judgment in Death by J. D. Robb
Berkley, September 2000
Paperback, 368 pages.
ISBN: 0425176304.
Ordering information:
Amazon.com.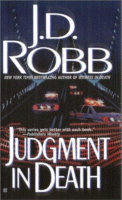 New York City police lieutenant Eve Dallas returns in this latest installment in the popular futuristic romantic suspense series. When a cop is found dead in an upscale strip club called Purgatory, Eve is called into investigate. It turns out that the club is owned by Eve's tycoon husband, Roarke, and that the cop appears to have been on the take. But the case is far from simple, and the more Eve investigates the less she likes it. Roarke's shady former associate keeps popping up in the investigation, and it looks like there's a serial killer on the loose -- someone is killing off crooked cops. It's up to Eve to find the connection between the two cases, and keep her and Roarke off the killer's hit list.
Nora Roberts, writing as J.D. Robb, has crafted a gritty, emotional and totally gripping series with the
In Death
crime novels. The books have an attractive freshness and edgy feel to them. In
Judgment in Death
, we learn more about Eve and Roarke's passionate and compelling relationship, and get a healthy dose of all the best elements of these books: intense passion, fascinating characters and an eerily believable look at New York City in the not too distant future. Highly recommended.
---
Murder Follows Money by Lora Roberts
Fawcett, May 2000.
Paperback, 240 pages.
ISBN: 0449005399.
Ordering information:
Amazon.com.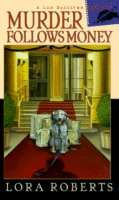 Freelance writer and sometime amateur sleuth Liz Sullivan often takes temp jobs to help ends meet, but her latest assignment may put her off temping for good. Liz is hired to be a media escort for beloved food/lifestyle celebrity Hannah Couch. But Hannah in real life is nothing like her friendly, grandmotherly television persona. Vicious, demanding and petulant, she keeps her beleaguered staff hopping to meet her constant demands. When mysterious notes and flower arrangements start showing up, Hannah seems terrified. Then when one of Hannah's inner circle is murdered, Liz gets kidnapped
and
becomes one of the prime suspects in the murder. Unless she and her friends find out what really happened in Hannah's hotel suite, Liz may find herself behind bars for a murder she didn't commit.
Murder Follows Money
is another entertaining read from Lora Roberts. Hannah Couch is an absolute terror, and Liz's adventures as a hapless media escort are hilarious. Liz is a bit of a vagabond who still feels like an outsider at times, and her wry commentary on the lives of the rich and famous is always funny. Roberts keeps the action moving at a good clip, and the dialogue is crisp and witty. Liz's character has evolved from the first book in this series (she lived in a VW bus then). She's now acquired a house, a dog and a boyfriend, police detective Paul Drake. You don't have to be familiar with the earlier books to enjoy this one, but you're sure to want to go back to find the rest of this series, if you haven't already.
---
Sea Change by James Powlik
Dell, August 2000.
Paperback, 481 pages.
ISBN: 0440235081.
Ordering information:
Amazon.com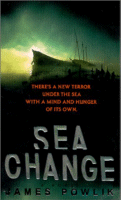 Brock Garner, an oceanographer, finds himself trying to defeat one of his greatest fears: a deadly toxic plankton bloom. Garner had warned officials in coastal Pacific Northwest towns about the dangers of blooms and red tides years ago, but he was laughed at by politicians and other scientists. Now, there is an invading bloom that is worse than he could have predicted. The bloom of pfiesteria liquefies the flesh of its victims, whether they are sea lions, fish or humans, creates a dead zone over the areas it passes through and emits a poisonous gas. To defeat the bloom, Garner and his allies will have to take help from some strange government sources and control his Garner's ex-wife's rich and fame-seeking new husband who engages in preposterous and glory-seeking stunts, and who has foolishly brought the media along with him.
Author James Powlik, Ph.D. is also a biologist and oceanographer, like his character Brock Garner. Powlik has researched and published articles covering many of the biological issues covered in
Sea Change
, including pollution, plankton sampling, global warming and dangerous ocean microorganisms such as the pfiesteria. This is Powlik's first novel, and he excels at weaving an exciting and original plot with appealing characters and complex scientific topics. Powlik manages to keep the thrills escalating without losing control of his characters. And because of his background he provides a convincing story with fascinating details about ocean life, scientific equipment and the Pacific Northwest. If you like disease/animal thrillers such as
The Cobra Event, Dust
and
The Eleventh Plague
, then you will like
Sea Change
.
---
Mystery Reviews
Page One
|
Page Two
Click Here to Return to the Book Reviews Index
---
More from Writers Write
---