Midnight in Ruby Bayou by Elizabeth Lowell Review
William Morrow, June 2000.
Hardcover, 386 pages.
ISBN: 0380974053.
Ordering information:
Amazon.com.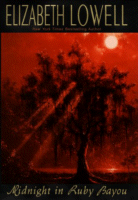 Faith Donovan has learned the hard way not to get too close to a man; her last boyfriend was a real jerk. Her protective brothers only grudgingly have agreed not to beat the loser to a pulp, and since the breakup Faith has buried herself in her work as a highly-regarded jewelry designer. But in order to travel to New Orleans with a fortune in rubies for a custom necklace she created, her insurer (her brother Archer, of the famed Donovan International) requires her to work with a bodyguard: the handsome and resourceful Owen Walker. Faith and Owen head to Savannah for a big jewelry show before traveling to see the prominent Montegeau family and deliver the wedding necklace, which is a present for Faith's friend who is marrying into the family. But everyone from the Russian mob to the FBI seems very interested in Faith and the rubies, and someone is clearly willing to see Faith murdered in order to get the priceless jewels. Even more danger awaits at the Montegeaus' historic family home, Ruby Bayou, which is full of long-buried secrets. One of the legends is that of the missing Blessing Chest, which is supposedly full of priceless jewels. Owen has his hands full with this assignment, and to make things more complicated, he finds himself falling head over heels for Faith. But can Faith ever learn to trust another man after her last disastrous experience?
This sexy and suspenseful thriller from
Elizabeth Lowell
is the latest entry in her popular Donovan series, after
Amber Beach
,
Pearl Cove
, and
Jade Island
. Lowell is a master at capturing the feel and flavor of a place, in this case the Deep South. The Donovan family is as fascinating as ever, and Faith and Owen's story is moving, and quite funny at times. With enough ardor to burn up the pages, vivid emotions and gripping suspense, don't be surprised if you pull an all-nighter with this one. Highly recommended.
---
More from Writers Write