Leo the Late Bloomer Review
Leo the Late Bloomer
by Robert Krauss, Pictures by Jose Arauego
Harper Festival, Feb., 1998.
Board Book, 30 pages.
Ages 6 mos -2½.
ISBN: 0694009806.
Ordering information:
Amazon.com.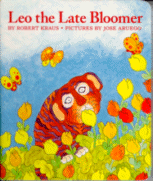 Poor Leo can't do anything right, and illustrator Jose Aruego has made that abundantly and hilariously clear with Leo the tiger's baleful expression in
Leo the Late Bloomer
. Author Robert Kraus has woven a tale about a little guy who can't yet read, draw or talk and is a very sloppy eater. Leo's wise mother knows he's just a late bloomer, but Dad is worried and watches Leo for signs of blooming. As Leo's mom says though, "A watched bloomer doesn't bloom," so Dad pretends to watch television instead of Leo. Winter comes and goes. Dad is still watching. Spring begins to bud, and Dad is still watching. Finally, in Leo's own time, he BLOOMS! He can read, write and draw like a whiz; and of course, eat neatly. There's just one hurdle left, talking. We see Mom's knowing look and Dad's suspicious one turn into love and relief respectively as Leo utters not just one word, but a WHOLE sentence, "I made it!" For all parents of late bloomers who watch the early blooming neighbor kids show off their skills, this book is a gentle reminder that everything happens in its' own good time. For little ones, it's a delightfully illustrated book where they can see all kinds of interesting animals and try to find Leo's Dad watching Leo. The best part is the happy ending both in picture and word of the whole family sharing a group hug as Leo says what all of us, including children, have felt many times, "I made it!"
--
Nancy Littlejohn
---
More from Writers Write
---