How To Write Your Novel by Margaret Chittenden Review
The Writer, Inc., 1995.
149 pp. ISBN: 0871161788.
Trade paperback, $10.95 U.S.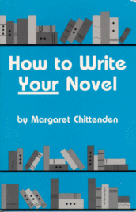 How to Write Your Novel is an invaluable aid to the aspiring author. Popular novelist Margaret Chittenden takes you by the hand and leads you through the confusing maze which you must learn to navigate if you ever hope to see your name on a book jacket. In Part I, Preparation, she reveals how to find a great idea for a novel, how to develop it into a storyline complete with characters, plot and setting in a way that will hold your readers' interest to the end of the story. Part I also covers the crucial elements of point of view, voice and style, as well as how to write a successful synopsis.
Part II, "The Writing" tells you how to use the skills you learned in Part I to create a rough draft, devise interesting and believable characters, write natural and entertaining dialogue and craft an ending that will please yourself and your readers. So, your novel is written: now what? In the last chapter, "Marketing Your Novel", Chittenden gives tips for choosing a title, getting an agent to sell your finished work and ideas on marketing your finished work.
Written in Chittenden's characteristically charming and witty style, How to Write Your Novel is informative and entertaining at the same time. You almost feel that Chittenden herself is right there behind you encouraging you to get those thoughts down on paper. A must-have for novice writers.
Ordering information: Amazon.com.
---
More from Writers Write
---