The Good, The Bad and The Very Ugly Review
The Good, The Bad and The Very Ugly: A Hollywood Journey
by Sondra Locke
William Morrow & Co., Nov., 1997.
Hardcover, 320 pages.
ISBN: 068815462X.
Ordering information:
Amazon.com.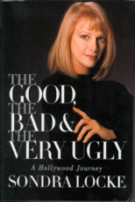 In her Academy Award nominated film debut,
The Heart is a Lonely Hunter
, Sondra Locke portrays Mick Kelly, a young girl with dreams to move beyond the provinciality of her small Southern hometown, to escape an emotionally distant mother and to pursue the "greatness" within her. Her journey is arduous at best and on the road growing up she loses a man she loves. But she survives, a stronger, wiser and more determined woman. Sondra Locke's life as detailed in
The Good, The Bad and The Very Ugly
, mirrors this film. From a childhood interest in fairy tales, she searched for a magic kingdom and her Prince Charming. Along the way, she met Gordon Anderson who would become her best friend, inspirer, supporter and husband -- despite his avowed homosexuality. Their journey took them to Hollywood where in 1975, Locke met superstar Clint Eastwood. With an instant mutual attraction, they became involved, with Eastwood assuming an almost Svengali-like control over Locke. For 13 years she devotes herself and her career to him, stopping at nothing to please him.
When she directs her first picture and attains a limited degree of autonomy, the dreamworld collapses culminating in one of the most acrimonious and appalling Hollywood break-ups to date. Locked out of her home, her clothes thrown out, her car vandalized, and her phones tapped, Locke uncharacteristically pursues the first of two lawsuits against Eastwood, while admitting that "even thought I loved him deeply, I never viewed him as a highly evolved person." During the protracted legal battle, she discovers that she has breast cancer and undergoes a double mastectomy, while Eastwood never acknowledges her illness. It is at her most physically and emotionally vulnerable that he offers a settlement: a director's contract at Warner Brothers. Locke settles only to find after that the deal is an Eastwood-orchestrated sham. She files a fraud lawsuit against him and Warner Brothers in a move assuring career suicide. her stamina, strength and faith are tested once again. With the constant insight, encouragement and inspiration from her lifelong friend, Gordon, Locke emerges victorious physically, emotionally and professionally to start her life anew -- in peace.
In a surprisingly interesting book, Locke spins a tale in the southern storytelling tradition with images of firefly-lit nights, homecooked meals, and colorfully eccentric characters. From sleepy Shelbyville to überwired Hollywood home of flickering street lamps, three martini lunches and self-centered amoral characters, Locke retains a down home perspective devoid of any pretense or ego. She quite candidly exposes her unconventional marriage to her homosexual best friend, her borderline supernatural experiences in her quest for God and the uncharacteristic naiveté of an assumed Hollywood insider. Locke tells her story with minimal rancor, occasional humor and frequent astonishment. Like her character, Mick Kelly, she emerges stronger and wiser on the road to find the greatness within her. An insightful story of growth and self-awareness as well as a compelling tale of Hollywood greed, betrayal and politics.
--John J. Tucker
---
More from Writers Write
---