Fantasy/SF Book Reviews
Twice Seven by Ben Bova
Eos, August 1998.
Paperback, 290 pages.
ISBN: 0380797410.
Ordering information:
Amazon.com.
This collection of short stories by science fiction master Ben Bova, provides the reader with a collection of insightful and realistic glimpses at the future -- which have frightening and sometimes humorous outcomes. The short stories embrace subjects such as Martian canals, Elvis Presley, Albert Einstein, Moon Exploration, Babe Ruth, superconducting Magnets, President Kennedy, a comet heading for Earth, time-travel and other futuristic and controversial subjects. Each story contains an introduction by Bova that includes how he came about creating the story.
Twice Seven
is a great collection of SF stories, that will delight science fiction lovers and Ben Bova fans alike.
---
Babylon5 Security Manual by Michael Garibaldi and Jim Mortimore
Del Rey, May 1998.
Trade paperback, 159 pages.
ISBN: 0345424530.
Ordering information:
Amazon.com.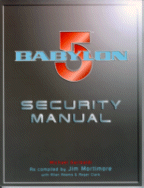 This manual to TV's science fiction program,
Babylon 5
, explains in detail how the Babylon 5 space station maintains security. The book includes details on the structure of Babylon 5 including the operations, personnel and inhabitants. The book also provides details on various life forms found in the galaxy, information on various weapons and spacecraft and complete maps of
Babylon 5
. The manual include color photos, technical illustrations charts and diagrams to effectively present the information. A must for the die-hard
Babylon 5
fan.
---
Star Wars: The Essential Guide to Planets and Moons by Daniel Wallace, Illustrations by Brandon McKinney and Scott Kolins
Del Rey, August 1998.
Trade paperback, 203 pages.
ISBN: 0345420683.
Ordering information:
Amazon.com.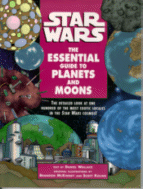 This picturesque look at the world of Star Wars will be sure to please lovers of the Star Wars books and motion pictures. The book provides a detailed look at one hundred planets in the Star Wars realm including details of each planet's solar system, inhabitants, terrain and other points of interest. Each planet review also includes interesting creatures that roam the planet as well as a brief history of the planet and the planet's role in Star Wars fiction. A great gift for Star Wars fans.
---
Return to Book Reviews Index
---
More from Writers Write
---