Fantasy/SF Book Reviews
The Presence by John Saul
Fawcett Books, June 1998.
Paperback, 417 pages.
ISBN: 0449002411.
Ordering information:
Amazon.com.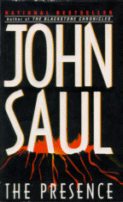 Michael has had asthma his entire life, but he is finally starting to outgrow it and is becoming a vital member of his high school track team. However just when he is starting to grow into his life -- despite the high school bullies who torment him -- his mother, archaeologist Dr. Katharine Sundquist, packs the family up and moves them to Hawaii. She will be assisting in an exploration, run by an old boyfriend of hers, to investigate some recently discovered bones.
Shortly after he arrives in his new home in Hawaii, Michael immediately jumps at the chance to try scuba diving, despite his Mother's objections. However, he has no trouble breathing and even saves another boy's life who quickly befriends him. Michael soon finds that participating in activities with his new friend may be dangerous when he finds himself with a group of boys and sneaking off to go on an unsupervised night dive. A strange occurrence takes place on the dive, and while the tanks seemed full, all the boys have to come up quickly for air only to discover their tanks were empty. Luckily, no one is hurt. But later that night one of the boys dies of asphyxiation on the way home. Soon Michael himself starts to feel occasional discomfort in his lungs. Could the changes to Michael and the mysterious bones from an early hominid his mother is studying (that historically shouldn't be anywhere near the Hawaiian Islands) possibly be related?
The Presence
is a compelling novel with horror, thrills, and a crazed scientist all set against the beautiful background of Hawaii. An exciting scientific thriller which is one of Saul's best.
---
Sword Born by Jennifer Roberson
DAW, April 1998.
Paperback, 416 pages.
ISBN: 0886777763.
Ordering information:
Amazon.com.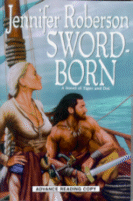 Left for dead as an infant in the desert and enslaved by the Southron tribe who happened upon him, Tiger has lived a hard life. After winning his freedom by slaying a sandtiger which was decimating the tribe, he studied and became the best sword-dancer in the South. But with his green eyes and bronze skin, it was clear he was not of Southern stock. After many adventures he met Delilah, or Del, a beautiful sword slinger from the frozen North. Since their meeting Tiger and Del have had many adventures together. In
Sword Born
Tiger and Del set out by ship for Skandi hoping to find out the secret of Tiger's origins. Along the way they are shipwrecked and kidnapped by a lady pirate who sells Tiger to a wealthy family in Skandi by claiming that Tiger is the long-lost heir to the house and its great fortune. The more Tiger gets to know his supposed new grandmother the more clear it becomes that Tiger may well indeed be this missing heir. He will have to fight intrigue, treachery, and a deadly magic that may hold the key to his future in order to find out who he is and regain his and Del's freedom.
This is the long-awaited 5th entry in the popular Tiger and Del series which has been without a new adventure for 8 years. Roberson does a masterful job of making the story equally enjoyable by both new and old fans of the series. The city of Skandi with its white cliffs and beautiful oceans makes for a dramatic backdrop for the moving tale of a man searching for his family and a place to call home. With enough action, excitement and magic for two books,
Sword Born
is rollicking good entertainment which will have readers eagerly awaiting the next installment in the adventure.
---
Return to Book Reviews Index
---
More from Writers Write
---