Fantasy/SF Book Reviews
Page Three of Three
The Machine Crusade (Dune series) by Brian Herbert and Kevin J. Anderson
Tor, September, 2003
Hardcover, 624 pages
ISBN: 076530158X
Ordering information:
Amazon.com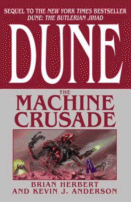 Twenty-four years have passed since the events described in
The Butlerian Jihad
, the earliest of the
Dune
prequels written by Brian Herbert and Kevin Anderson. The war against the thinking machines and their leader, the Omnius Evermind, rages on, killing millions of humans. Serena Butler, the murder of whose son Manion by the robot Erasmus sparked the human rebellion, is still the spiritual leader of the humans, although she spends much of her time in seclusion, being manipulated by former slave foreman and self-proclaimed political guru, Iblis Ginjo. Vor Atreides and Xavier Harkonnen lead the human fleet and display great courage and intelligence in their defeats of the machines. But it never seems to be enough to win the war. So when Omnius makes a surprising offer of peace, Serena Butler is given a terrible choice to make. Meanwhile, the brilliant physicist Norma Cava is about to make her discovery that will change the world -- she will discover how to fold space time. And on the desert planet of Arrakis, Selim Wormrider carries on his own jihad to stop the government of Arrakis from exporting the addictive spice mélange to off-worlders. For Selim's visions tell him that, unless he stops the trade, Dune and the giant sandworms will be destroyed forever.
Stepping into Frank Herbert's world and providing the pre-history for the original
Dune
series is an ambitious project, one which Kevin Anderson and Brian Herbert (son of Frank Herbert) are well-equipped to handle. The scope of
The Machine Crusades
is vast, but the authors skillfully take multiple plotlines and weave them together in an exciting mix: Serena Butler's heartbreak and bravery, Norma Cava's brilliance, Xavier Harkonnen's ambition and regrets, Vor Atreides' charm and intelligence, Iblis' evil plotting and the horrifyingly evil Erasmus are all vividly portrayed with real, heartfelt emotion. As the rest of the galaxy begins to learn about the addictive spice mélange, the stakes are about to be raised when Norma's breakthrough in space travel occurs. Anderson and Herbert explore themes of artificial intelligence, ethics in science, politics, religion, freedom, slavery and the power of love, against the backdrop of a rousing good adventure. This is a must-have for
Dune
fans. For those who never entered the
Dune
universe, by all means, pick up a copy of
The Butlerian Jihad
to see how it all started. But a warning is in order: like the spice mélange, this series is addictive.
--Claire E. White
---
Ice Hunt by James Rollins
William Morrow, July, 2003
Hardcover, 397 pages
ISBN: 0060521562
Ordering information:
Amazon.com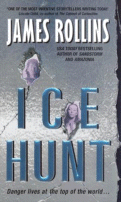 Matthew Pike is a former Special Forces operative who now lives a solitary life in Alaska as a Fish and Game Warden. But when he rescues a passenger from a downed plane, he gets more than he bargained for. Soon, he finds himself, the stranger and his Inuit ex-wife on the run from mysterious commandos who don't want to stop to discuss the situation rationally. When they finally end up at a top-secret Russian research station that has been abandoned since World War II, things really get scary. For the top secret research the Russians were doing could have world-wide ramifications. And both the U.S. and Russian governments seem intent on making sure that no one gets out of the Artic alive to tell the tale of what went on at the station.
Thrill junkies and James Rollins fans, who are probably barely recovered from his last heart-pounding adventure,
Amazonia
, can strap themselves in for another top-notch adventure with
Ice Hunt
. Rollins, who is clearly poised to move in on Michael Crichton and Clive Cussler's territories, serves up another outrageous, action-packed and terrifying story, this time set in the frigid Artic. Rollins' descriptions are so good, you can practically hear the wind howling, feel the bone-numbing chill and hear the terrifying footsteps of something that's hiding just around the corner, ready to make you into dinner. Rollins' characters are always vivid and he has the knack of putting you right next to them as they face threats, both man-made and nature-made. Rollins is the real deal: it doesn't get any better than this if you're looking for a high-action, push the envelope adventure.
---
Oryx and Crake by Margaret Atwood
Doubleday, May, 2003
Hardcover, 376 pages
ISBN: 0385503857
Ordering information:
Amazon.com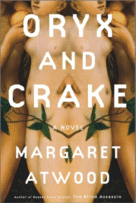 Oryx and Crake
begins with a man called Snowman sleeping in a tree. He is likely to be the last adult left on planet Earth. Snowman reflects on his past as we learn what has led up to Snowman and mankind's plight. Today, Snowman's world is a lonely one, populated with genetically engineered creatures created by man (like pigoons and wolvoons) and perfect human-like green-eyed children (called the Children of Crake) that stare in wonder and amusement at Snowman. Snowman takes us back into his life as a young adolescent -- back to the days when there were still plenty of human beings -- as he journeys to the source of mankind's destruction -- Crake's biolab.
Many of the happenings in Margaret Atwood's latest novel can be found in today's surreal headlines. From genetic engineering in animals to new deadly disease outbreaks, today's world mirrors the future world that is so well-thought out and presented in
Oryx and Crake
. Search for genetic engineering in a search engine and the results will show you experiments on pigs and rats using human DNA and organs, fish made to change colors to be more attractive to pet owners and a slew of other animal engineering experiments. Atwood takes today's experiments and extrapolates them to the point where mankind is creating its own new animals and science-based corporations that run entire towns become commonplace. Atwood's tale is made all the more believable by her intense characters, Jimmy (the young Snowman), Crake (an unstable genius) and Oryx, the beautiful underaged porn star Jimmy and Crake meet online. Atwood tell us the story of civilization's downfall through the eyes of these three characters, beginning with their adolescence. As in literary novelist Atwood's other work of science fiction,
The Handmaid's Tale
, mankind faces a dark, depressing and unforgiving future in
Oryx and Crake
. This is a powerful, compelling cautionary tale.
---
Fantasy/SF/Horror Reviews
Page One
|
Page Two
|
Page Three
Return to Book Reviews Index
---
More from Writers Write