Fantasy/SF Book Reviews
Page One of Three
Demon Witch by Geoffrey Huntington
ReganBooks, July, 2003
Hardcover, 276 pages
ISBN: 006001427X
Ordering information:
Amazon.com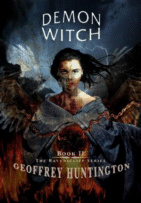 In this second entry in the Ravenscliff series, fourteen year-old Devon March is coming to terms with his powers as a member of the Noble Order of the Nightwing, a group of wizards whose job is to keep the Earth safe from evil in all forms. Now in high school, Devon lives with his guardian, Mrs. Crandall at Ravenscliff, where he was sent after the death of his father. Now a greater evil than Devon has ever faced before has arisen: Isobel the Apostate was a witch who turned against her fellow sorcerers of the Nightwing and sided with the demons. She nearly unseated Henry VIII from the throne before being burned at the stake, while swearing that she would return. Now she has returned and it will be up to Devon to stop her from unleashing all manner of horrors upon an unsuspecting modern England.
Geoffrey Huntington ups the ante in the second entry in this gripping series, which is part fantasy, part thriller and part horror. In this book, Devon learns more about the mysterious Order of the Nightwing and actually gets to travel to England's past in a particularly well-written time travel segment. Huntington keeps the reader guessing until the last minute about the true motives of all the enigmatic characters that surround Devon. Devon himself is quite appealing: he has an edge to him and that indefinable something that makes a hero memorable. Devon wrestles with all the usual problems of a normal teenager, but he also has to deal with some very serious issues involving trust, loyalty and how to do the right thing. Huntington excels at writing young people and his dialogue rings true; this is an excellent series which keeps getting better with each book.
---
Eragon by Christoper Paolini
Knopf, August, 2003
Hardcover, 509 pages
ISBN: 0375826688
Ordering information:
Amazon.com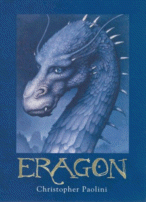 Eragon lives a tough, yet simple life on the farm with his father and brother. Although he is only fifteen, he is an excellent tracker and hunter. But his life changes forever when he discovers a mysterious blue stone in the Spine, the wild mountains that run through much of the land of Alagaesia.The blue stone turns out to be a dragon egg and soon Eragon has a new companion: a beautiful and intelligent sapphire blue dragon. But the evil king of Alagaesia has his terrifying Urgals on the trail of the dragon egg, for dragons and their Dragon Riders are powerful and magical people that the king is determined to control. Eragon and his dragon are forced to flee their home and set out on a quest to find his destiny, and avoid capture by King Galbatroix.
Christopher Paolini began writing
Eragon
, the first book in a projected trilogy, after he graduated high school at the age of fifteen (he is now nineteen). Paolini takes the accepted Celtic mythos laid down by J.R.R. Tolkien (elves, dwarves, humans, dragons etc.) and uses them to create his own, unique story. The influences of Tolkien and Anne McCaffrey are felt here, but the style, plot and feel of the story are very much Paolini's own creations. The plot is interesting (especially the elves and the legendary Dragon Riders), the mythos is well-crafted and the secondary characters sparkle. The stunning cover art by John Jude Palencar, as well as the beautiful maps, illustrations and glossary add to this impressive debut.
---
Fantasy/SF/Horror Reviews
Page One |
Page Two
|
Page Three
Return to Book Reviews Index
---
More from Writers Write