Esperanza's Box of Saints by Maria Amparo Escandón Review
Scribner, Jan., 1999.
Trade Paperback, 247 pages.
ISBN: 068485614X.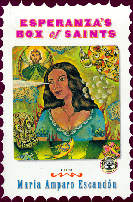 Beautiful young widow Esperanza Diaz has had much tragedy in her life. After her husband dies, she then loses her beloved daughter when she goes in for a routine tonsillectomy. But a miracle occurs -- Esperanza sees a vision of San Judas Tadeo in her greasy oven door. The saint tells Esperanza that her daughter is not dead. Convinced that her daughter is not dead, but alive and sold into white slavery, Esperanza sets out on a journey to find her. After telling her parish priest of the heavenly visitation and her holy quest to find her child, she leaves her home (a small Mexican town) and travels north to Tijuana and eventually to Southern California. Along the way, the most amazing things happen to her. But Esperanza has a positive genius for escaping from desperate situations, and her faith in her little box of saints (which she always carries with her) is undiminished.
Maria Amparo Escandón has created a true gem of a tale with her impressive debut novel. At turns, hilarious (when she makes her X-rated confessions to her befuddled parish priest) and tragic (the lengths a mother will go to when facing the loss of a child), but always moving, the story takes on an almost surreal atmosphere by the end of the book which somehow works quite well. The unflappable heroine Esperanza, fueled by the love of her daughter and her faith in God, is a powerful character and her search resonates with passion and determination. An outstanding debut from a talented author. Highly Recommended.
--Claire E. White
Ordering information: Amazon.com.
---
More from Writers Write
---