Do It Yourself Music Publishing Part V
by Mary Dawson
Short and Long Range Plans
If you have been following this series on "Do-It-Yourself Music Publishing," you have probably realized by now the truth of the old maxim that says,
Nothing is Ever Easy
. That is especially true of the Music Industry when you are trying to break in from the outside. Your big break will probably not happen this month -- or even six months from now. If it does, you will be pleasantly surprised, but please don't be discouraged if even years go by before you get that cut by a major aritst. I am often reminded of a quote that I believe is attributed to Huey Lewis when he finally had his first hit. An interviewer asked him how it felt to be an "overnight success." Huey replied: "It sure was a hell of a long night!"
Because it is such a steep uphill climb to your long range goal, it is very important to have short range goals along the way that will keep you motivated. These short range goals are also important because they build what I like to call your
Success Resume
. Just as a professional resume lists your academic and business experience, a Success Resume lists your achievements in the Music Business -- from the local to the national level. And this is far more important than you can imagine!
If you forget most of the rest of the information in this series, please remember this:
At the bottom line, the Music Industry is not so much interested in discovering new talent as it is in discovering proven successes.
Most artistic people want to believe that their
talent
will one day be discovered and gain them entrance to stardom. Nothing could be further from the truth! While talent surely doesn't hurt anyone's chances of success, it is fair to say that "talented people are really a dime a dozen." This may sound somewhat cynical, but think about it for a moment. How many very talented people do you know -- some of whom are much better at their talent than many national artists -- who are NEVER able to give up their day jobs? There are great writers, great singers, great actors in almost every city and town in the world, but only a very few will ever make it to national prominence. Why? Because they mistakenly think that they must be "in the right place at the right time" for their talent to be discovered. If that doesn't happen, they somehow feel that it was simply not their
destiny
.
The hard reality is that the Music Industry is first and foremost a profit-driven industry. In fact, it is one of the most lucrative in the world. The bottom line, therefore, for any music company is whether or not a prospective songwriter, musician or singer will turn a profit for the company. Most savvy music moguls are looking for artists and writers who have proven track records when it comes to success and profit margins.
That's why it is so important to have a Success Resume. You can start today, where you are with what you have. I can't overstate the importance of becoming familiar with the music community where you live. As you do, you will become aware of opportunities to perform or write in a whole variety of capacities -- from summer musicals, to choir performances, rodeos, patriotic events, Christmas programs...and on and on.
Look for opportunities right around you to exercise your musical talent and as your efforts gain success, press coverage or fan mail, keep a record of these things. If you are a singer/songwriter and sell your recordings primarily in your concert venues, keep a record of your total sales. Learn to know your local radio D.J.'s Send them a packet and follow up with a phone call. D.J.'s appreciate personal contact with artists and will often include your song in their rotation. I recently received a newsletter from an independent singer/songwriter who started with just one small radio station playing his material. As listeners responded favorably to the airplay of his songs, other stations picked up on them. Within a year several radio NETWORKS had begun to carry his music and now he has almost gone nationwide.
If you are a songwriter only, make your catalog of songs available to local artists looking for original material. Take advantage of every opportunity to expose your gifts and talent where you are right now. Each opportunity becomes part of your unique identity as an artist, acquaints you with wonderful new people, and teaches you valuable lessons that will guide you into yet other opportunities. Be proud of your successes and credits. Include them in your bio material and watch how your credibility as a professional grows with each experience.
A few years ago I met a young ten-year-old singer who was looking for age-appropriate songs for her independently produced custom albums. She had a shoestring budget, so we helped each other out. She recorded two of my songs which were very well-received by her fans and we established a good friendship. Four years later this young lady became an overnight sensation in Country Music -- her name is LeAnn Rimes. It's amazing how the short range, local opportunities of today can become part of the long range plan of tomorrow.
Each week, invest some of the allotted time you have set aside for your music career to pursue your long range objectives. But also be sure to set aside some time to pursue short range, immediate opportunities. The key is persistence and lots of hard work. The 1986 Nobel Prize-winning cholesterol metabolism research team, Brown and Goldstein, are frequently heard by their lab staff to say: "The harder we work, the luckier we get!" Most successful people in any field realize that this is absolutely true!
Wherever you are in your journey, remember to have fun! When you stop having fun, it's time to re-examine the whole gig and determine whether or not you need to make some procedural changes -- or perhaps life changes. There will be lots and lots of rejection and discouragement, but if you love music, if you love songwriting and you are still having fun along the way to the goal...DON'T QUIT! Keep learning; keep improving; keep writing better and better material. Eventually, you will find your place and make your major contribution!
Right in front of my desk in my office is a beautiful picture of a lovely river running through a rocky, mountainous area. A tree seems to be growing up right out of the rock along the river. The caption beneath the picture reads:
PERSEVERANCE: In the confrontation between the stream and the rock The stream always wins...not through strength but through persistence.
See you at the Grammys!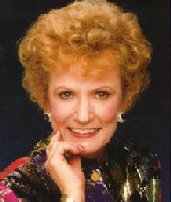 **From her earliest childhood years writing simple songs and poems with her father, through her twelve years as an overseas missionary, to her present, multi-faceted career as an author, lyricist/songwriter and conference speaker, Mary has always been adept at using words to communicate her heart to others. She is the President of CQK Records & Music of Dallas, Texas, a company which creates and produces songs in a panorama of musical styles for a variety of audiences, She is also the host of "I Write the Songs," a nationally syndicated radio talk show, especially created to inspire and instruct the more than 25 million aspiring songwriters in the U.S. "I Write the Songs" is broadcast over the Internet. Mary is a frequent public speaker and seminar lecturer on songwriting. She is a regular columnist for Independent Songwriter Web Magazine. Mary's commitment to discovering and mentoring talented new songwriters has given her extensive experience in song analysis through adjudicating songwriting competitions and conducting songwriting workshops across the country and around the world. Because of her role as president of an independent music company, she is also well qualified to instruct aspiring songwriters on the various business aspects of the music industry. She is married and a mother of four. She resides in the Dallas area.
---
More from Writers Write