Digging Up Momma by Sarah Shankman Review
by Editor
Pocket Books, Feb 1998.
Hardcover, 275 pages.
ISBN: 0671897535.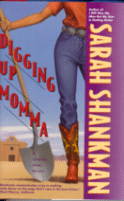 New Orleans crime reporter and sleuth Samantha Adams has had a lot to deal with in her life: the death of her parents in a fiery air crash when she was 5, a messy divorce and a bout with alcoholism. Just as she seems to be getting her life together, life throws her another curve: a note arrives from her dead mother asking Samantha to meet her in Santa Fe, no questions asked. Overwhelmed by the implications of the note, Samantha sets off for the New Age Mecca with a mixture of skepticism and a desperate hope that her mother might still be alive. Armed only with her beloved little Shih Tzu and her reporter's instincts, she will be faced with a shocking mystery from the past, a town filled with ghosts and superstitions and a very real murderer who is intent on keeping Samantha from finding out the truth about her mother's past.
Digging Up Momma is another spellbinding, hilarious and sometimes touching tale from talented mystery author Sarah Shankman. Samantha is a heroine like no other -- her sense of humor and unique outlook on life make for compelling reading. The background of Santa Fe is very well-done and the mystery is an intriguing puzzle. A must-read for Shankman fans, old and new.
Ordering information: Amazon.com.
---
More from Writers Write
---