Computer Book Reviews
Page One of Two
Complete Idiot's Guide to XML by David Gulbransen
Alpha Books, May 2000.
Trade Paperback, 332 pages.
ISBN: 0789723115
Ordering information:
Amazon.com.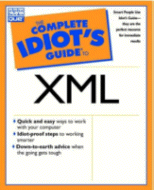 XML (Extensible Markup Language) is a language that has quickly been put to use by web developers and programmers to build applications and databases. Its ability to be used between applications has it being used for development of applications for handheld and wireless devices, including devices for kitchen appliances. While the title of this book may sound a bit funny, the book really does provide a solid introduction to XML concepts and programming. The instruction is easy to follow and learn, and includes many examples, screenshots, drawings, tips, sample code, cartoons and answers to questions a reader might be thinking of. Coverage of XML concepts include: XML Pro, the XML editor, XML documents, DTD, reserved keywords, attributes, XHTML, schemas and entities. The book also illustrates real-world uses of XML, provides a complete sample XML project and includes a CD-ROM which contains XML Pro, a third-party software tool for editing, creating, viewing and validating XML documents. While experienced programmers should seek a more advanced reference, this XML tool excels at the beginning audience it is catered to, providing a thorough introduction to XML for beginning programmers and IT executives who need an understanding of the language.
---
Flash Web Design by Hillman Curtis
New Riders, March 2000.
Trade Paperback, 114 pages.
ISBN: 0735708967
Ordering information:
Amazon.com.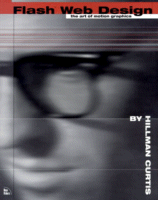 If you spend much time surfing the Web, you have no doubt noticed the flash screens and interfaces which are becoming more common on websites. Some of them are extremely well-done, while some of them can be irritating.
Flash Web Design
guides the reader through the steps of making a flash animation, including tips on how to design more pleasing flash screens for your website visitors. To help readers learn Flash design, the book contains several examples of real-world Flash animations and interfaces. Through these Flash designs author and web graphic design expert, Hillman Curtis, provides tips and instructions for developing Flash animations with tools, including Macromedia FreeHand 8, Adobe Premiere, Adobe Dimensions, Adobe AfterEffects, MacroMedia SoundEdit 1, SoundForge and formZ. The book also introduces readers to Flash concepts, including the art of motion graphics, emotional center, emotional messages, multitasking attention deficit and global visual language. A section listing flash web resources is also provided.
Hillman, an expert in motion graphics and former Macromedia creative director, shares his design skills with readers in this in-depth visual Flash learning aide. Throughout the instruction Hillman focuses most of his attention on ensuring good design, but also includes a wide-range of techniques for developing original and appealing motion graphics and Flash designs. Hillman also provides an interactive companion website for use with the book. Readers should have at least some experience working with graphic software tools to better understand the techniques and concepts covered in the book. For those who have this experience, get ready for some hands-on learning from a graphics design pro who really knows his stuff.
---
Computer Reviews
Page One |
Page Two
Return to Book Reviews Index
---
More from Writers Write
---