Computer Book Reviews
Cyber Rules by Thomas M. Siebel and Pat House
Doubleday, April 1999.
Hardcover, 280 pages.
ISBN: 0385494122
Ordering Information:
Amazon.com.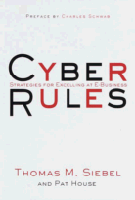 Cyber Rules
provides a summary of the development and history of the Internet as a marketplace and business tool, and provides expert instruction and advice on the rules and principals of e-business.
Cyber Rules
is written by Thomas M. Siebel, founder and CEO of the billion dollar business software company, Siebel Systems, and Pat House, executive vice-president and Chief Operating Officer at Siebel. Siebel provides a history of the Internet to date including some crucial rules of e-commerce which include: Zapping is the Way of the Web, Direct Traffic Aggressively, Be Seen at the Front Door, Think Convenience and Close the Loop. In the rest of the book, Siebel provides information about what he thinks the future of e-business might hold. He dicusses issues such as bandwidth, virtual middleman, customerization and other e-commerce developments. Because of his position in the technology business, Seible is in a position to know. Many of his projections are likely possibilities. The final section of the book, entitled "Getting There From Here", provides information on getting started online including developing an Internet strategy, finding an ISP, developing the website, managing the website and measuring its return. The book also includes fascinating comments and quotes from other industry experts including Eric Schmidt, Novell Chairman and CEO, Warren Adams, President of PlanetAll which was recently Purchased by Amazon.com, Cisco Systems Chief Information Officer Pete Solvik and Charles R. Schwab, who wrote the book's forward.
Thomas M. Siebel and Pat House have created a valuable reference on the rapidly developing world of e-business that is full of surprising facts and practical business advice. An important book that all business professionals should read.
---
Guerrilla Marketing with Adobe PhotoDeluxe by Kate O'Day & Linda Tapscott
Adobe Press, January 1999.
Trade Paperback, 270 pages.
ISBN: 1568304862
Ordering information:
Amazon.com.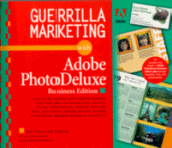 This unique marketing tool, which comes with graphic software and a reference book, combines graphic design and guerilla marketing techniques into one helpful volume. The book provides instruction on creating and utilizing different types of marketing materials including: logos, business cards, stationery, brochures, newsletters, websites, magazine ads, newspaper ads, classifieds, direct mail, postcards, reminders, invitations, flyers, online marketing, signs, labels, T-shirts, presentations, calendars and holiday cards. In addition to instruction on creating these marketing items, the book also provides valuable information on how to use these items to effectively promote your product or service. A companion CD-ROM includes the software program Adobe PhotoDeluxe, which allows you to create the promotional items addressed in the book. The CD-ROM also includes clip art and information about other graphics software products.
Guerrilla Marketing with Adobe PhotoDeluxe
is an excellent reference tool for creating and running effective marketing campaigns for your home office or small business.
---
Microsoft Frontpage 98 by Laura Lemay
Sams, November 1997.
Trade Paperback, 807 pages.
ISBN: 1575213729
Ordering information:
Amazon.com.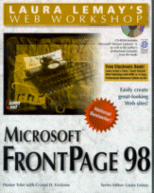 This reference provides detailed information about how to set up and use the powerful web tool
Microsoft FrontPage 98
. The book begins with information on how to navigate and use the software including basic concepts and step-by-step examples with illustrations and screen shots. The book also includes coverage of advanced FrontPage topics including: style sheets, themes, images, sound, animation, FrontPage components, forms, Java applets, scripts and ActiveX. The final section in the book covers administering and maintaining your website. An appendix in the book includes a quick-reference section for FrontPage extensions and HTML code. The enclosed CD-ROM includes third party software tools. Web guru Laura Lemay has created an excellent guide to web page development using Microsoft's web building tool. A valuable learning tool for first-time FrontPage 98 users.
---
Return to Book Reviews Index
---
More from Writers Write