Computer Book Reviews
Poor Richard's E-mail Publishing by Chris Pirillo.
Top Floor, September 1999.
Trade Paperback, 334 pages.
ISBN: 0966103254
Ordering information:
Amazon.com.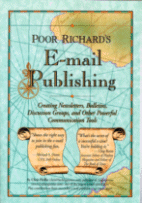 This reference provides in-depth instruction and helpful advice on how to get into the business of email publishing, one of the hottest and most effective business communication tools on the Web. Although there are lots of email newsletters already in production, it is never too late to start your own. The book's author, Chris Pirillo, is the publisher of Lockergnome, an extremely popular email newsletter covering Microsoft Windows topics. Pirillo guides readers through the basics of starting a newsletter, including what should be in it, how to deliver it, how to get people to subscribe and how to make money with your newsletter. Some of the topics covered in the book are types of email newsletters, email publishing basics, spamming, subscription management, software, text newsletters, HTML newsletters, discussion groups, high-powered list services and guerrilla promotions. Pirillo gives the reader the ins and outs of each subject, practical advice and anecdotes from his own experiences as a publisher. The book also includes a section with advice from other email newsletter publishing experts: John Funk, founder of InfoBeat, Geoffrey Kleinman, editor of The Kleinman Report and Randy Cassingham, author of
This is True
. A comprehensive resource section is also provided including contact information and website addresses for mailing-list service providers, mailing-list software, electronic publishing resources, electronic publications and email programs.
Poor Richard's E-mail Publishing
is a wonderful introduction and complete reference guide to email publishing with valuable specialty advice which is impossible to find anywhere else in this comprehensive format. Anyone looking to publish an email newsletter, or improve and promote an existing one, should own a copy of this book.
---
The No B.S. Guide to Red Hat Linux 6 by Bob Rankin
No Starch Press, November 1999.
Trade Paperback, 422 pages.
ISBN: 1886411301
Ordering information:
Amazon.com.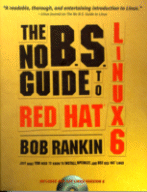 The
No B.S. Guide to Red Hat Linux 6
is a concise, user-friendly guide to getting up and running with the most recent version of Red Hat Linux. The book provides instruction enhanced with screen shots and examples that beginners will find easy to follow. Coverage in the book includes installing Red Hat Linux, getting started, using and configuring GNOME, connecting to the Internet, shells, files, Linux commands, text editors, Linux programming, managing email, accessing DOS, running Windows programs, updating Linux and lists of Linux resources. The book also comes with a CD-ROM of the publisher's edition of Red Hat Linux with over over 600 software packages. An appendix in the book provides detailed description of each one of the games, applications and utilities found on the CD-ROM. Author Bob Rankin, a programmer, freelance writer and computer author, has crafted a practical no-nonsense guide to getting started with Linux that is full of valuable tips, suggestions and examples. An excellent start-up tool for computer users new to Linux.
---
Pure Javascript by R. Allen Wyke, Jason D. Gilliam and Charlton Ting.
Sams, June 1999.
Trade Paperback, 1448 pages.
ISBN: 0672315475
Ordering information:
Amazon.com.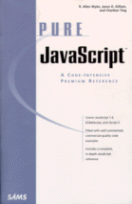 JavaScript is becoming more and more of a valuable programming tool as people upgrade to the more recent browser versions which allow the latest versions of JavaScript to run. JavaScript can be used for form validation, dynamic effects, calculations and numerous other functions without having to access the server.
Pure JavaScript
focuses on using sample code as the main method, of teaching, which is a method readily used by experienced programmers to quickly develop their programming skills in a language. The first part of the book is an introduction to JavaScript which provides coverage of data types, variables, operators, conditionals, objects, browsers and form processing. The core of the book (over 1,000 pages) provides listings of all JavaScript objects with each property, method and event explained in detail under its associated object. Descriptions, examples and tips are included along with the JavaScript objects and syntax. The book also includes a handy reference which lists the browser-supported JavaScript syntax for Internet Explorer, Netscape and Opera.
Pure JavaScript
is laden with sample code and advice. JavaScript programmers will find their coding tasks much less complicated with this comprehensive reference. Recommend for those with some JavaScript programming experience.
---
Return to Book Reviews Index
---
More from Writers Write