Cold Iron by Melisa Michaels Review
Roc., August, 1997.
364 pages. ISBN: 0451456548
Paperback.
Ordering information:
Amazon.com.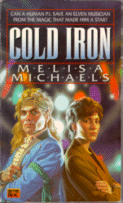 Private investigator Rose Lavine hates Christmas and is feeling decidedly cranky when a young woman walks into her office with an unusual job offer. She plunks down cold cash for Rose to protect Jorandel, the charismatic lead singer of the Elfrock band Cold Iron. There's only one problem -- Jorandel doesn't want protection, so Rose must go undercover as a groupie on the tour in order to get close to the mysterious rock star. Plunged into a mad world of sex, drugs, rock and roll and the mysterious laws of Faerie, Rose must hold on to her values and her sanity while trying to protect the life of the sociopathic yet deadly attractive Jorandel who is the living proof of the old Celtic saying that Elves are "fallen angels, not good enough to save, not bad enough to be lost...who have every charm but conscience."
Cold Iron
is a fascinating and unique mix of fantasy and mystery. Rose, who seems pretty hardboiled on the outside, has depth and character and a great deal of pain from her past. She enters the world of Cold Iron to find a killer, but finds herself in a battle to keep her sense of self and her sanity intact while resisting the lure of the hedonistic, reckless and self-destructive rock star lifestyle which is made attractive by the hypnotic power that Jorandel has over women. Along the way Rose makes some important discoveries about herself, in addition to finding out who is trying to kill Jorandel and why. The moving ending paves the way for some interesting future adventures for Rose.
Melisa Michaels
is an engaging writer with a musician's ear for dialogue and a gift for characterization.
Cold Iron
gives just enough information about Faerie and the Elves who have abandoned Faerie for the human world to whet the appetite for more information about this fascinating world of 20th century America that is peopled by Elves and humans alike. A fascinating new fantasy series by a delightful and talented author.
---
More from Writers Write