Children's Book Reviews
Page One of Two
Earthquakes by Franklyn M. Branley, Illustrations by Megan Lloyd
HarperTrophy, February, 2005
Hardcover, 40 pages
ISBN: 0064451887
Ages 4-8
Ordering information:
Amazon.com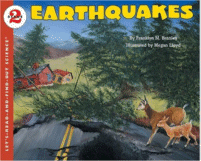 No parent wants his child to experience the devastation an earthquake can cause, but many families live in areas where earthquakes are an unfortunate possibility.
Earthquakes
helps explain earthquakes to children and shows them what can happen with realistic illustrations. Some of the illustrations show frightening scenes like burning homes, swaying skyscrapers and crushed bridges and cars. The text can be frightening too: "During a big earthquake, Many buildings fall down. There are also fires. Pipes that carry Gas to homes are broken. A spark may set the gas afire. Sometimes Firefighters can't fight the flames because water pipes have been broken." The book is factual and it doesn't try to downplay the risk to homes and families, but it also says most earthquakes are minor and gives tips for what to do if you are caught in an earthquake whether you are indoors or outside. No one likes to scare children, but knowledge can save lives. If you live in California or any earthquake-prone area, this one's a must for anyone who has toddlers.
---
The Light of the Oracle by Victoria Hanley
David Fickling Books, May, 2005
Hardcover, 320 pages
ISBN: 0385750862
Ages 12 and up
Ordering information:
Amazon.com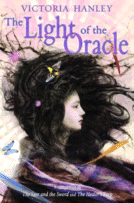 The daughter of a poor stonecutter, 15 year old Bryn is hopeless at doing normal household tasks. Much to her parents' dismay, she spends most of her time daydreaming and talking to the local village priest, who secretly teaches her to read. One day, Bryn crosses paths with the Master Priest of the Temple of the Oracle himself. The Master recognizes her daydreaming for talent and convinces her parents to allow her to go to the Temple for training. The Temple is much like a boarding school, complete with cliques and rivalries. But Bryn's talents show themselves early and she is marked by the Wind. Other girls are marked by various birds. With each mark comes a special gift, in addition to the gift of Prophecy that all marked handmaidens have. Innocently enough, Bryn gives true predictions of the future, not realizing that in a large and complicated kingdom politics -- not truth -- may have more bearing on what the Master Priest tells the King. Soon, Bryn realizes that there is something horribly wrong at the Temple and she and her friends must find out what it is before it destroys the kingdom for good.
Set in the same world as
The Healer's Keep
and
The Seer and the Sword
,
The Light of the Oracle
is a stand-alone story that works quite well on its own. Essentially a coming of age story, the book features a likeable and smart heroine and well-realized secondary characters. The magic of the Temple and the Oracle is quite interesting, and the introduction of kingdom politics and scheming courtiers adds to the fun. Victoria Hanley has a light hand with prose; her story simply sings with energy and fun.
---
Children's Book Reviews
Page One |
Page Two
---
More from Writers Write