Children's Book Reviews
The Internet Writing Journal
Page One of Two
By Nancy Littlejohn
Five Little Pumpkins Pictures by Dan Yaccarino
Harper Growing Tree, September 1998.
Board Book, 14 pages.
ISBN: 0694011770.
Ordering information:
Amazon.com.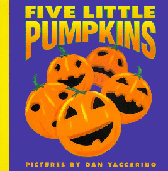 Put on your best spooky reading voices, and delight your children with this cute rendition of a favorite fingerplay. Five brilliant orange jack o' lanterns are sitting on a gate. (Be sure to point out that each one has a uniquely carved face with lots of different shapes and expressions.) Keep track of those pumpkins as they all have something special to say as a bright yellow harvest moon rises in a midnight blue sky. A slinky white ghost slithers from a chimney in the background. (Maybe it belongs to a haunted house!) Next funny green witches are flying all about. But the smiley-faced jack o' lantern doesn't care. The fourth and fifth ones are up for some adventure, too, but suddenly oooooooooooo went the wind (remember those spooky voices, parents) and out went the lights, a black cat appears and those five little pumpkins have had enough for that night! Have fun pointing out the colors, the shapes and the rhyme, and be prepared to read this one over and over again. Maybe you can even take turns making the noises. Happy Halloween! (Cackle,Cackle!)
--Nancy Littlejohn
---
The Spooky Halloween Surprise by Suzy-Jane Turner
HarperFestival, September 1998.
Paperback, 19 pages
Ages 2-5.
ISBN: 0694011231.
Ordering information:
Amazon.com.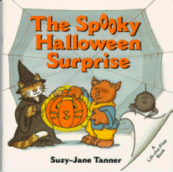 Who doesn't love lift-the-flap books, especially at Halloween, a time of mystery and surprises? Whiskers Witch, a cheery little cat, is our hostess for the evening. She has a giant cat jack o' lantern that she is just lighting as the story begins. (Hint: Keep your eyes on that jack o' lantern!) Suddenly, a c-r-e-a-k startles Whiskers. Lift the tablecloth to find Marvin Monster who thinks he heard something in the next room. BOOO! Marvin and Whiskers are really scared now so let's lift the spider web on the stairwell to find an equally scared Spooky Spider. Join the gang as they troop upstairs where Whiskers, Marvin and Spooky continue to be startled by scary sounds and find even more of their friends like Maggie Mouse, Gertie Ghost, Betty Bat, and Skippy Skeleton in the oddest places. Lift the flaps on a Grandfather clock, a haunted closet, a shutter, and a doorway. Who is causing all of those noises, anyway? Why, it's that wily jack o' lantern, tee-hee. Of course, now that everyone is all gathered around, it's time for the Halloween Party to begin. Watch our new friends in a merry dance, and discover that Halloween isn't that spooky after all. Even Marvin the Monster and Spooky Spider are holding hands, smiling big smiles as they wave good-bye. This book is great for introducing very young children to Halloween with just enough thrills to capture their attention without making the traditional Halloween characters too creepy. It's cheery and fun and even cozy with its cast of lovable, cuddly creatures. Enjoy the party!
--Nancy Littlejohn
---
Click Here For Children's Book Reviews Page Two
Return to Book Reviews Index