Children's Book Reviews
The Internet Writing Journal
Page Two of Two
Ella Enchanted by Gail Carson Levine
Harper Trophy, 1998.
Paperback, 232 pages.
ISBN: 0064407055.
Ordering information:
Amazon.com.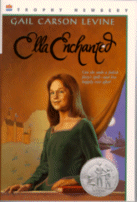 Imagine
Cinderella, Gulliver's Travels
and
The Hobbit
all spun together in a fantastical fairy tale for middle graders, and there you have
Ella Enchanted
. Ella is indeed an enchanting young girl. Alas, she has been enchanted by the fairy Lucinda's whimsical and thoughtless spell given to her at birth which makes her perfectly obedient. She must obey any direct command, which can lead her to danger, even death. Ella's story is about her quest to find Lucinda, the fairy that placed the spell on her and persuade her to lift the spell so Ella can lead a normal life. Well, as normal as a life can get when you live among gnomes, elves, ogres, giants, and centaurs all speaking different languages. Fortunately, Ella is good with languages, a talent that proves invaluable as she faces her many challenges.
All is well with Ella until her beloved Mother dies. She is distraught with grief comforted only by the cook, Mandy, (also a fairy) until she meets Prince Char at her mother's funeral. They become the best of friends, but then Ella's father decides to send her off to finishing school. There, Ella must contend with her future stepsisters, Hattie and Olive, one who accidentally discovers Ella's secret. Miserable, Ella escapes determined to find her father and Lucinda. Ella has discovered from the elves and gnomes she encounters on her journey that Lucinda and her father will be at the wedding of a giantess. Fortunately, after many misadventures, she finds Prince Char and his friends. Ella is determined to get to the wedding. When Ella arrives, Lucinda not only refuses to lift the spell, but Ella discovers that her father has lost all of his money. He must marry Dame Olga, mother of Harriet and Olive. Lucinda decides to flaunt her powers again by giving Ella's father and Dame Olga the gift of always being in love. Ella's father flees in horror, and Ella becomes the slave of her evil step sisters and Dame Olga. Prince Char must go to another country to complete his education, but Mandy saves the day by serving as the messenger between Char and Ella. As they continue their correspondence they fall in love, and Char asks Ella to marry him. She realizes that while she is still under Lucinda's curse, to marry him would put him in danger, too.
Meanwhile, Mandy and her fairy friends have decided to give Lucinda the come-uppance she deserves. After a time of having to be totally obedient as well as a squirrel, Lucinda swears off big magic and decides to help Ella. The rest of the story falls into place as the familiar tale of Cinderella complete with balls, carriage and glass slippers. The one twist is that Ella finally discovers only she can lift the curse of obedience. Char orders her to marry him but her love for him is too great to allow herself to destroy him. Her willpower to say no and the excruciating pain it causes her breaks the curse at last.
Ella refuses to become a princess, though, and instead takes the title of Court Linguist. She travels with Char and learns every language. She loves her newfound power to say yes or no, and, of course, they live happily ever after.
Ella Enchanted
is full of entertaining plot twists, excitement and Levine's masterful use of imaginary languages. It is fascinating to see the combination of so many fairy stories into a book that older kids will love. Ella is a delightful yet determined girl, realistic in a totally fantasy world. Her willpower and intelligence serve as a vital role model for young girls. Levine's imagination is almost without peer. She successfully interweaves journals, letters, first person and narrative into a book that is a definite page-turner. This book would make a great gift, and definitely is one that many girls would choose for themselves. Congratulations to Gail Carson Levine on her first children's book. It's a winner. Just ask the Newbery Committee.
--Nancy Littlejohn
---
Laughing Out Loud, I Fly by Juan Felipe Herrera, drawings by Karen Barbour
Joanna Cotler Books, May 1998.
Hardcover, 45 pages.
ISBN: 0060276045.
Ordering information:
Amazon.com.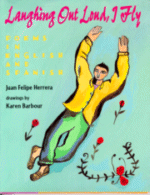 Juan Felipe Herrera has written a joyous little book of poems for children in Spanish and English. He modeled this book on a similar book written by Picasso called
Hunk of Skin
. Each poem appears in Spanish on the left side of the page and the English equivalent is on the right. If you have only encountered Spanish in a middle school course or, sadly, only on a restaurant menu you can still enjoy it by reading the English side and dipping into the Spanish that looks familiar and recognizable on the other side.
Like a package of peppermints, poetry is written for savoring in short spaces of time stolen from our over-scheduled lives.
Laughing Out Loud I Fly
is thin and small, so that it fits easily into a tote bag or briefcase for a quick foray into its pleasures as you commute home or as you try to sit out the last minutes of batting practice for the Little League baseball team. It is also a great tool for introducing your child to poetry and to the joys of being multi-lingual.
The best thing to be gained from reading
Laughing Out Loud, I Fly
is that you and your child can for awhile be invited into the ethnic warmth and comfort of the Hispanic community. Most often Mr. Herrera evokes the food images that are one of the most important parts of ethnic identity. To many Americans of all groups, but most especially those from the Southwest, the Mexican/Native American foods have become so ingrained in our weekly diet that, when we are transferred to another continent for whatever reason, we feel severely deprived and start importuning those left at home to send us some salsa. Therefore, we can enjoy the lovely phrases like, "al viejito Don Chon...cocina chorizo con nopales," and then proceed to, "It is in the coffee, It is in the Tiny Black Bean," which is across the page from, "Esta en el cafe, esta en el frijolito negro." In a world grown smaller, poetry can fill gaps of time and culture and add enjoyment to both. I suggest that you enjoy this little book of poetry and childhood because like all good poetry, it will cause you to see ordinary things in a new way.
--Sarah Reaves White
---
Click Here For Children's Book Reviews Page One
Return to Book Reviews Index