Antarctic Writer on Ice: A Serendipitous Map
by Hazel Edwards
Recipient of the 2001 ANARE (Australian Research Antarctic Research Expedition) Humanities berth.
Antarctic Writer on Ice
is a serendipitous map of the way I was introduced to Antarctica. A professional author always considers her audience, and shapes the material appropriately. I was fortunate to have had several readerships for my journey, both while onboard and with subsequent adult and child audiences in newspapers, magazines and books.
I wanted to share my creative literary process as I tried to shape those polar experiences as fact and fiction in writing for different audiences. As a children's author, I believe in the participant-observer approach of going and doing, distilling the essence of the research and then writing about complex issues in simple language afterwards.
But the Antarctic was an unusual literary experience, and these different ways of writing about it, are an attempt to convey that.
Scientists and explorers think in the precisions of time, distance and location. So I've quoted the sit-reps. Sit-Reps are the situation reports in the language of degrees south, times beset in the ice, and temperatures recorded. Certain readers adore detail which gives them a "hold" on a subject and "Antarctica" is BIG geographically, ecologically and emotionally.
Because my laptop exploded and I lost the capacity to retain files, I had to email my daily thoughts to my cyber-capable daughter with a back-up to my co-author. But since my satellite time was limited, I was only permitted about 400 words at a time and no attachments. That is why email entries are dated by the voyage day and retain the rawness of immediacy because these were originally the research equivalent of my writer's idea note-book.
So many people responded favourably and forwarded to others the few emails they had read, that I began to think of the rawness and present tense of emailing as a valid form of conveying experience. Thus my emails have been edited, but their previous sequence retained.
My written features and radio interviews with expeditioners attempt to convey different perspectives and language relevant to their occupations, gender, workstyle, motivations, equipment or transport of Antarctica. Inclusion of my published review of the Antarctic Dictionary which I wrote prior to the voyage was ironic timing. When the newspaper printed my review in January, I was actually in Antarctica using some of the terms which had been an academic exercise earlier. So the actual terminology of Antarcticspeak is an aspect of this literary record.
As a journalist I had been commissioned to write "Postcards from Antarctica" in the form of email articles, so some of the following extracts had a dual purpose. I was writing for a private and for a public readership, and so I shaped the experience appropriately but still tried to be honest about reactions to ice, expeditioners' workstyles and to the way I felt about the physical challenges. My decision to write in first person was a technical one to take the reader into the subjective world of a female writer-expeditioner to provide a dramatic contrast to most audience expectations of a male polar expeditioner.
There appears to be an overlap in the chronology of events, but that was because the newspaper published feature articles had to repeat events for a once-only reader. Often the articles were published much later and my edited copy might differ from my original, especially if cut for space limits. This is the reason for indicating the process in
Antarctic Writer on Ice
.
Shaping fiction requires different processes to shaping fact. I included the "Lachieberg" children's iceberg story as an example of how a picture book developed and the significance of stories being shared with families or even the therapeutic value of being able to create for a specific reader.
The process of plotting is indicated by the en-acting a possible expeditioner disappearance overboard and drawing on the Bosun's shipboard knowledge. I put hypothetical plots to "boffins" to get their comments on the scientific feasibility. I have shown an author's idea gathering and the need to have conflict, setting and character in fiction and fact. The hesitant "I" of the storyteller is a little exaggerated for dramatic contrast or humor, but the candid accounts are accurate.
"What if?" is also part of an author's plotting, so the hypothetical SETI incident is included as an example of how boredom can provoke an author into creating.
Excepts from other expeditioners' e-diaries (with their permission) indicate varied tones and different ways of writing of the same events. The Midwinter Dinner Invitation and response shows the value of humour in alleviating distance, but also the formatting of another Antarctic experience.
Antarctic Division formal emergency news circulars are written in a different tone and style from the laconic limericks performed at the Limerick Lunch. Poetic descriptions of ice or Wagner's music being played out of the back of the rescuing ice-breaker contrast with the narrative description of trying on survival gear.
Subsequent literary creations based on the experience of Antarctica will continue in the form of picture books, a photographic faction series on Antarctic vehicles for young children and an eco-thriller for young adult readers.
Since creativity is based on putting together things which have not been in that combination before, trying to give a candid account of the process of researching and writing on ice and simultaneously experimenting with new ways of writing those experiences as fact and fiction, for a variety of audiences is valid. I've tried to indicate one writer's process: serendipitious but mapped ...a fortuitous happening but one which was directed.
Hazel Edwards'
website
contains additional Antarctic material.
Antarctic Writer on Ice
by Hazel Edwards is available from
Amazon.com
.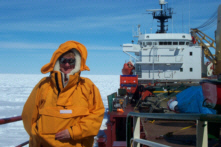 **Hazel Edwards is the award-winning author of over 100 children's books, including There's a Hippopotamus on Our Roof Eating Cake (Hodder Headline UK), Stalker, Duty Free (Lothian) and Fake ID (Lothian). A frequent public speaker, Edwards also writes adult non-fiction, teacher educational material, junior and adolescent fiction and scripts. Her work has been translated into Finnish, Braille, Japanese and Chinese. She lives in Australia.

Just in Case...You Visit the Children's Court created with Michael Salmon is a new venture into factual cartoon style books. In 2001, Hazel was the writer-in-residence in Antarctica at Australia's Casey Station. You can visit her website at hazeledwards.com.
---
More from Writers Write