Another City, Not My Own by Dominick Dunne Review
Crown, Nov., 1997.
Hardcover, 384 pages.
ISBN: 0609601008.
Ordering information:
Amazon.com.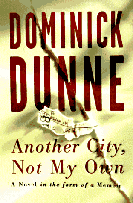 Like nearly everyone else in the United States in 1994 and 1995, Augustus Bailey, a feature writer and columnist for
Vanity Fair
magazine, is obsessed with the O.J. Simpson murder trial. Having written several fictional accounts of notorious high society murders and being a former writer/producer in Hollywood, Bailey's friendships and contacts put him in touch with everyone in the trial, as well as some of the most amazing sources of information about the murderer and his victims. Bailey becomes ensconced in Hollywood's high society while covering the trial, sought out by hosts hoping to dazzle their guests with sumptuous food, elegant surroundings and the latest and most arcane gossip about the most recent "Trial of the Century". Bailey discusses the trial with everyone from notorious Hollywood Madame Heidi Fleiss to Princess Diana while being continually provided with overwhelming information which indicates Simpson's guilt, even from those in Simpson's own camp.
This fictionalized account of the Simpson trial in the form of a memoir is a must-read for anyone who was conscious between June, 1994 and October, 1995. It was impossible not to hear something about the murders, investigation and trial; many of the events became indelible in our nation's history. Did more people watch the low-speed car chase or the first moon walk? Gus Bailey, Dunne's alter ego (
See
,
An Inconvenient Woman
) provides the reader with insight into Dunne's own life through the story's narration -- the horrific experience of having one's daughter murdered, failure and redemption in Hollywood, and small talk with those swell people photographed in
Vanity Fair
and
Town and Country
(they don't drink beer from cans, but they do love salacious gossip just like everyone else!)
Dunne proves to be the ultimate raconteur (and name-dropper) by weaving current events and famous and infamous people into a captivating story. Particularly enjoyable was the improbable introduction of Nancy Reagan and Betsey Bloomingdale to Heidi Fleiss as well as the cameo appearances of Bernard Lafferty and Andrew Cunanan. Whether you followed the Simpson trial closely or tried to ignore it, you'll find enough fascinating true and fictional anecdotes and details in this memoir to keep you engrossed for hours.
--Doug Jacobson
---
More from Writers Write
---