Transition words and phrases can be used to let the reader know more information is coming and suggests what type of information it is going to be. Transitions help add structure to an essay or paper by connecting ideas and sentences together. Beginning a sentence with "to summarize" lets the reader know a conclusion or summary is coming next. Using the word "in addition" tells the reader more facts are on the way and also connects the new facts to the previously mentioned facts.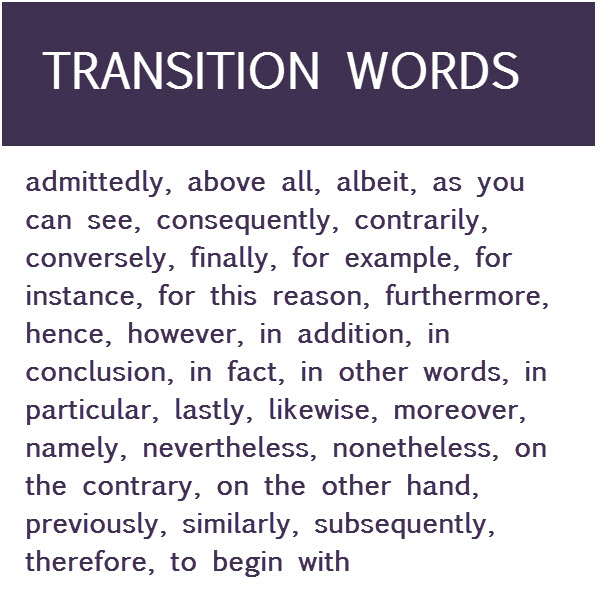 Transitions need to be used correctly or it can make your sentence awkward. You would not want to begin your paper with "In conclusion," and you would not want to introduce supporting information with a contrast transition word like "on the other hand" or "contrarily." Transition words set up your readers' expectations. You don't want to leave them disappointed by not following through or delivering something different than what your transition word promised was coming.
People come to understand the meanings of different transition words through reading. You can use a dictionary to find out the exact meanings of the words. Here are few common transition words and phrases.
In conclusion: Tells the reader that your conclusion is coming.


Furthermore or moreover: Tells the reader that more supporting information is on the way.


For example or for instance: Indicates to the reader an example supporting your facts is coming.


On the contrary or conversely: Tells the reader that a different or opposite (contrarian) fact or opinion is coming.


As I have noted: Tells the reader you a repeating an important fact or point.


Admittedly or granted that: This tells the reader you are about to concede a point in your argument.


Above all: You are about to tell the reader a very important point.
An easy way to find more transition words is to look up the synonyms for the transition word. Here are a few examples.
If you search for the transition word "therefore" on Power Thesaurus you will get many synonyms that are also transition words including hence, thus, in consequence, for that reason, accordingly, as such and many more.


If you search for "for example" on Power Thesaurus you will get over 40 results. Some of them include such as, for instance, as a case in point, take one example, for case in a point, etc.


Likewise, a search for "in addition" will also get you multiple transition words and phrases, such as along with, as well as, over and above, additionally, together with, incrementally and plus.
There are resources that lists lots of transition words and group them into categories like contrasting, addition, time, comparison, emphasis, concluding, examples etc. to make them easier to discover and use. Here are some great resources where you can find additional transition words and phrases grouped into categories: