Reading and Book Memes
Reading books remains one of the most popular forms of entertainment. It is also an excellent method for obtaining information. Reading is popular among users of social media where different memes have emerged over the past few years.
Love of Reading
The most popular meme celebrates the love of reading. The love of reading meme also highlights the preference of reading over other activities. People might share an image of a very contented person with a book, someone reading a book on a nice day or a person reading while ignoring everything else around them. People also tend to show an image of a very happy person and then say something like, "Me after I've finished reading a book."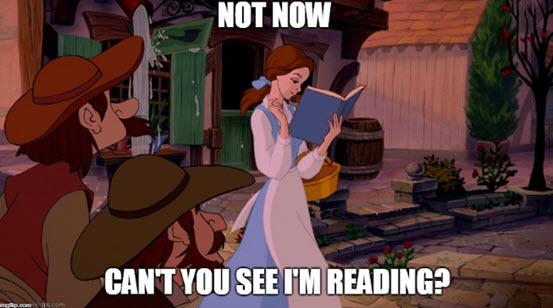 Busy Reading, Don't Bother Me
The love of books can also be expressed by an image of a person with a book looking engrossed in their reading or annoyed that someone is interrupting their important reading. They are busy reading. Do not bother them.
Other reading memes focus on the excitement of a plot twist and the inability to sleep when engrossed in a great book. You can view some of the many book and reading memes on
Google Images
and
Pinterest
. There are also many on the reading memes tag on
Instagram
,
Memebase
and
MemeCenter
. BuzzFeed shared fifty fun book memes in a recent
post
.
This reading image uses the popular
Philosoraptor
meme.
Reading Gifs
People also love to share animated Gifs related to books and reading. This one of Australian actress Margot Robbie reading a book as Harley Quinn is popular. You can find many more on
Gfycat
.
Peter Parker Reading a Book Meme
There are also some specific book memes, such as the meme with Peter Parker reading a book. This meme uses a multi-pane image from a 1960s Spider-Man cartoon. Know Your Meme has information about the origins of this meme
here
. You can generator your own Peter Parker book memes on
Imgflip
.
Another reading meme is the "What am I reading?" meme that uses an image (usually with two panes) of a person or cartoon looking confused after reading something.
You can find more book and writing memes on our
writing memes
section.