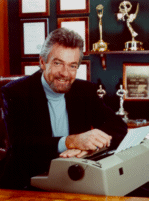 The 1998 Stephen J. Cannell online seminar has closed. You can find some of the materials from the seminar in our online screenwriting section.

The screenwriting section is also full of information and links to numerous online screenwriting resources. Please click here to visit the screenwriting section.

Be sure to subscribe to Writers Write on your favorite social network or RSS Reader to hear about the latest new content and activities on Writers Write®.






Copyright © 1997-2013 by Writers Write, Inc. All Rights Reserved.
www.writerswrite.com