Writing Book Reviews
Page Two of Two
The Writer's Guide to Creating a Science Fiction Universe by George Ocha and Jeffrey Osier
Writer's Digest Books, Mar., 1993.
Hardcover, 314 pages.
ISBN: 0898795362
Ordering information:
Amazon.com.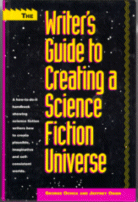 This specialized writing guide aids the budding science fiction writer with information and suggestions to lead them away from common science fiction mistakes and teach them the basics of science fiction writing. The guidebook covers many topics including characteristics of space, the solar system, spacecraft, designing a planet, evolution, alien life, nanotechnology, artificial intelligence, genetic engineering and catastrophes. The chapters include scientific theories that when used properly in your science fiction can add creditability to your work. When appropriate, science fiction works of well-known authors are also referenced. A bibliography is also included which can be used to find additional resources on scientific fact and theories.
This book not only can stir up new ideas for the science fiction writer, but can also help to keep him or her from presenting inaccurate scientific facts that could ruin the story or novel. A thorough overview of science which also shows the reader how known science facts can be used successfully in novels and short stories.
---
Writing Romances Edited by Rita Gallagher and Rita Clay Estrada
Writer's Digest Books, March, 1997.
Hardcover, 207 pages.
ISBN: 089879756X
Ordering information:
Amazon.com.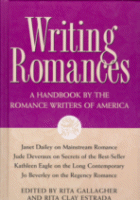 Writing Romances
, edited by Rita Gallagher and Rita Clay Estrada, the co-founders of The Romance Writers of America, contains articles on the business and craft of writing romance novels. Articles in the book address subjects including agents, publicity, researching historical facts, writing contemporary romance and writing romantic suspense, to name a few. Articles are from well-known figures in the romance genre including romance author Jude Deveraux with "Secrets for Creating a best-selling Romance," editor Kate Duffy (Zebra-Kensington) with "The Life and Times of a Manuscript," RWA President Janis Reams Hudson with "The Importance of Networking," and romance author Janet Daily with "Mainstream: It's Not Just A Longer Category." In total there are twenty-five articles in the book.
Learning from the experts is one of the best ways for beginning romance novelists to improve their skills. The benefit of learning from experts is captured in full in this handbook by the Romance Writers of America by providing proven tips on selling and promoting books as well as advice on writing romance stories and novels that will sell.
---
Click Here For Page 1 of Writing Book Reviews
Return to Book Reviews Index
---
More from Writers Write