Violet & Claire by Francesca Lia Block Review
Joanna Cotler Books, October 1999.
Hardcover, 128 pages.
Ages 13 and up
ISBN: 0060277491.
Ordering information:
Amazon.com.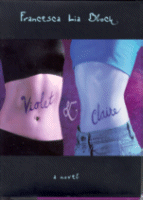 In modern-day Los Angeles, Violet is a dark teen, full of angst, who is determined to be a famous screenwriter. She prowls the high school thinking of plots and settings, meticulously recording them in her laptop computer. Everywhere Violet is dark and intense, Claire (a budding poet) is light, fragile, and almost fairy-like. In fact, when Violet first meets her, Claire has a pair of fairy wings taped to her back. Both are shunned at school, and the two form a very close friendship. But when Violet becomes an overnight success, the two best friends are driven apart by fame, jealousy and ambition. Can the two halves of the perfect girl find a happy, Hollywood ending?
Francesca Lia Block has a style of writing that is, at once, recognizable and unique. Clearly a poet herself, Block is skillful at using her words to delight, horrify, and enchant -- all at the same time. This story shows the dark side of high school and the Hollywood scene, and how two girls make a connection which is real and affecting. Block writes with authority when dealing with adolescents, and her dialogue rings true. Fans of
I Was a Teenage Fairy
, the
Weetzie Bat
books,
Girl Goddess #9
etc. will definitely want to add this to their collection. Those who haven't yet read Francesca Lia Block will be in for a shockingly pleasant surprise. Highly recommended.
---
More from Writers Write